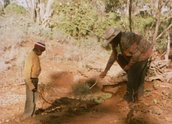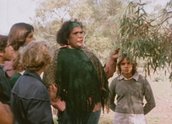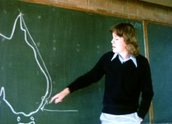 My Survival as an Aboriginal (1978)
Synopsis
A documentary about Indigenous woman Essie Coffey and her life in the township of Brewarrina, or Dodge City, as it is also known.
Curator's notes
Essie Coffey (1941-1998) was a Muruwari woman born near Goodooga, NSW. She was the co-founder of the Western Aboriginal Legal Service and an inaugural member of the Council for Aboriginal Reconciliation. Essie Coffey's passion for her culture and her stoic dedication to her people is tangible in this film. As a charismatic, dedicated woman, she invites the audience into her community. And while she brings to the fore the hardships endured by her community, she is continually focused on the power and richness of traditional knowledge and skills, and the power of her cultural connection to land. In this, Coffey not only raises issues of the impact of colonisation on Indigenous peoples, but also offers a solution by way of continuing cultural practice.
Essie Coffey gives a personal account of what happened to her people in Brewarrina and her personal opinions on why her people are caught in a struggle. The opening sequence of My Survival as an Aboriginal is challenging as it delivers a litany of atrocities and hardships committed against Aboriginal people. The producer of My Survival as an Aboriginal, Martha Ansara, has said that the film was 'a passionate outcry … a voice of repressed truth', and the film is still current within the contemporary Australian society. The ongoing issues of colonialism and dispossession raised by Coffey continue to affect Indigenous peoples today. My Survival as an Aboriginal, though a call to justice, is also tempered with beauty, and the audience is allowed to glimpse the private world of Essie Coffey and the people of Brewarrina. Coffey is very strong in her fight for justice, and equally committed to ensuring that the next generation are taught cultural knowledge as a means of ensuring an identity invested in the ongoing relationship to land.
My Survival as an Aboriginal was directed by Essie Coffey and is a collaboration with non-Indigenous filmmaker Martha Ansara. It was one of the first Australian films where an Indigenous Australian was directly involved in deciding how she and her community would be represented, and is also the first documentary directed by an Indigenous woman.
Essie Coffey also appeared in My Life as I Live It (1993) and gave a copy of My Survival as an Aboriginal to Queen Elizabeth II at the opening of Australia's new Parliament House in 1988. Essie Coffey is a voice that reaches across time, and she continues to be a larger than life contributor in the ongoing fight for the rights for Indigenous peoples. See also Big Girls Don't Cry.
This program has also screened on NITV, National Indigenous Television.