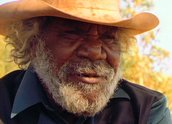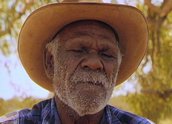 My Country (1994)
Synopsis
The documentary examines the working relationship between Indigenous and non-Indigenous occupants of a cattle station in the Northern Territory. Most of the filming takes place during a cattle muster as helicopters are used to round up thousands of head of cattle.
Curator's notes
Produced in the mid-90s, the film debates land rights and the treatment of Aboriginal workers. Producers Ruth Berry and Bob Plasto also produced Coronation Hill – Land of the Apocalypse (1991) and Hypsi the Forest Gardener (1998).
Secondary curator's notes
by
Romaine Moreton
My Country, echoing the iconic Dorothea Mackellar poem of the same name, is a film about the impact of the Native Title Act 1992 on the relationships between Indigenous peoples and non-Indigenous pastoralists.
Pastoralist Grant Martin and Indigenous stockman Harry Dixon have known each other for the duration of Grant's life, and while there is a familiarity, there is still the question of who has the moral rights to land. My Country epitomises the challenge that lies ahead for Indigenous and non-Indigenous Australians alike to understand and discuss the terms and conditions of differing cultural and philosophical relationships to land.
An interesting component is how the documentary references the historical event known as the Coniston Massacre. The filmmakers attempt to contextualise the contemporary contest over land by bringing the historical event into the present. Fred Brooks, a dingo hunter in his 70s was allegedly murdered by Aboriginal peoples in retaliation for Brooks stealing the wife of one of the accused. What resulted was the indiscriminate massacre of Aborigines by a punitive party that took place over weeks. The police involved admitted to 17 Aboriginal deaths, but were exonerated by a board of enquiry. A member of the Northern Territory Legislative Assembly, John Ah Kit has said that the competition for resources was also a component of the massacre. What we see is how two distinct cultures – Indigenous and non-Indigenous – relate to the same place and country, while governed by different beliefs.