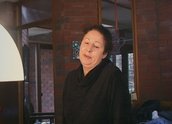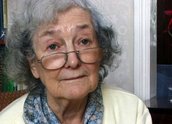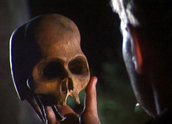 Much Ado About Something (2001)
Synopsis
Much Ado About Something questions the authorship of the works of Shakespeare in a delightful and accessible way. It uses interviews, dramatisations, pictures, photos, paintings, and scenes from feature films and plays to investigate whether Christopher Marlowe or Sir Francis Bacon may have written works attributed to Shakespeare.
Curator's notes
Much Ado About Something is a good yarn, a mystery story full of intrigue and innuendo. Did Shakespeare write the plays, the sonnets, the poems that are attributed to him? Is he a fraud, did he plagiarise, did he take the credit for someone else's work? Who was Shakespeare? There is little known about him: he worked in London as an actor and dramatist, he 'wrote' many famous works, but none of his manuscripts survive – only the printed texts of his work remain.
Filmmaker Michael Rubbo is narrator and detective, teasing out the mysteries and conspiracies that surround Shakespeare's work. Rubbo amusingly pursues the many societies and groups professing to know who really wrote the works of Shakespeare. He meets with the 'Stratfordians' (Shakespeare supporters), 'Marlovians' (Marlowe supporters) and those who have faith in other theories (Sir Francis Bacon; Earl of Oxford, Edward De Vere). All are just as staunch and passionate as the others. The filmmaker sides with the Marlovians, cleverly inserting a scene from Shakespeare in Love (1998) into the documentary where Marlowe appears to be a mentor to Shakespeare.
Marlowe was alleged to have been killed in 1593, before any of Shakespeare's plays had been published. Could Marlowe have been knifed by the church for his heretical views? Or was he a spy who was spirited away to Italy by his friends where he wrote the literary works attributed to Shakespeare? There is now an accumulating literary award being offered by a Marlovian for the person who can categorically prove that Marlowe was the writer (see clip one).
John Hunt is an obsessed Marlovian, but his wife Sue finds it all rather upsetting as can be seen in her body language and her stating 'the English take in Shakespeare with their mother's milk'. Not so for Dolly Walker Wraight, another Marlovian whose thoughts and theories wind through Much Ado About Something (see clip two). She is involved in the Marlowe Society and is most interested in the sonnets, many of which deal with exile and longing to return. How could Shakespeare write about this when he had little knowledge of European life and cities?
There are many compelling reasons given throughout the film for doubting Shakespeare's authorship. For instance, when would he have had the time? Shakespeare would have been involved in many activities as an actor and dramatist in the theatre (see clip three). The title of the film is adapted from the 'Shakespeare' play Much Ado About Nothing (c1598), which is a comic but occasionally dark exploration of deception.
Rubbo toured Australia with his own DVD projector and screen, screening the film at church halls, town halls, schools and any suitable venue he could find. Much Ado About Something also screened on the ABC on 18 April 2002 as well as in the UK on the BBC and in the US on Frontline, PBS.