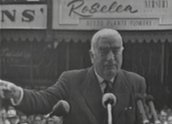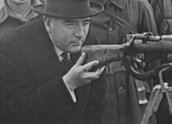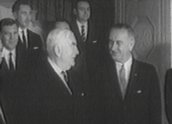 Menzies in Profile (1964)
Synopsis
Menzies in Profile explores the history and political career of the 12th and longest serving – 18 years – Prime Minister of Australia, conveying his thoughts, political tactics and life, the founding of the Liberal Party of Australia and the winning and losing of numerous elections. It also highlights his love for and alliance to Great Britain, the Second World War and his call of the Australian people to action, his long overseas trips and much more.
Curator's notes
Using presenters, narration, quotes and archival footage and stills, Menzies in Profile weaves a portrait of Menzies's political life and skills, his aspirations and his foibles. This television documentary is dated by its style and format – the entirely black-and-white footage, the use of the presenter who talks directly into the camera from his desk in an authoritative voice and the rather odd choice of music (clip one).
There are surprises, such as when Menzies so dramatically resigns from the office of prime minister in August 1941. At this point in his life, he felt betrayed by his colleagues and, as a result, almost left politics altogether. But he regrouped and continued to be very politically involved, founding the Liberal Party in 1945 and making his comeback as prime minister in 1949. After that he won a succession of elections to become the longest-serving Australian prime minister. Menzies retired in 1966 at 72 years of age.
Menzies travelled often and for long periods of time, which provoked much criticism. In Great Britain during the war, he was very affected by what the people and troops experienced and came back determined to do as much as he could for the war effort. But when he returned, he faced complacency and problems with his own party (clip two).
After he retired, Menzies was appointed as Chancellor of the University of Melbourne (his alma mater), made Lord Warden of the Cinque Ports in Great Britain by the Queen and awarded numerous honorary degrees and fellowships. He went on lecture tours, wrote two volumes of memoirs and was a 'scholar-in-residence' at the University of Virginia in the USA.
Menzies in Profile paints a very dense picture of Menzies as a prime minister and exposes the breadth of activities he was involved in throughout his life. For example, his work in the international arena was extensive and the length of time he gave to it surprising (clip three).
Although mentioned in passing, the documentary avoids the more controversial subjects, such as why he was called 'Pig Iron Bob' in 1938 (a result of a brawl with the waterside workers who refused to load scrap iron being sold to Japan). This documentary was completed only a year before his ill-fated decision to reintroduce conscription and commit troops to the Vietnam War in 1965. Despite some limitations, bringing together historical footage into a 'profile' as this does makes Menzies in Profile interesting viewing and a very useful resource.
This documentary was made by the Perth television station TVW7 for broadcast on the Seven Network.