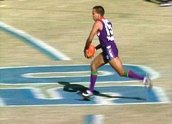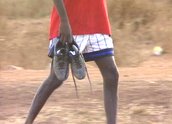 Marn Grook (1996)
Synopsis
Marn Grook details Indigenous involvement in AFL since the game's beginning.
Curator's notes
Marn Grook gives a good historical and political overview of the AFL and how Indigenous men have used AFL as a way of making a living, or as a political platform to fight for Indigenous rights. 'Marn Grook' is the Indigenous name of a game very similar to AFL or Australian Rules football, and it has been contended that the AFL game is in fact derived from Marn Grook.
Some of the players and incidents covered in the film include Douglas Nicholls, an Indigenous VFL player who went on to be knighted by the Queen and receive the honour of the Governorship of South Australia, and Nicky Winmar, who became an icon for anti-racism when he famously bared his torso and pointed to his skin in retaliation to racist taunts from Collingwood supporters. The Aboriginal All Stars formed as a result of racism in AFL following the Collingwood incident.
Marn Grook is a very informative documentary, and shows the skills and determination of many Indigenous football players who used sport as a way of overcoming adversity and challenging racism.