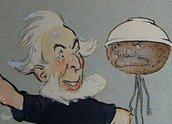 National Treasures – 'The Magic Pudding' Illustrations (2004)
Synopsis
Warren Brown takes a look at Norman Lindsay's original illustrations for the much-loved children's book The Magic Pudding at the State Library of New South Wales.
Curator's notes
How did bohemian artist Norman Lindsay, famous for painting provocative nudes, end up producing one of Australia's best-loved children's books?
Cartoonist James Kemsley reveals the legend behind the creation of the first great Australian antihero – Albert the never-ending pudding.
This is an episode from the first series of National Treasures, hosted by political cartoonist, columnist and history 'tragic' Warren Brown. Brown draws on a fascinating mix of national treasures from public and private collections to give a snapshot of an historic moment and illustrate the uniqueness of the Australian experience.
The ABC broadcast National Treasures in 2004.