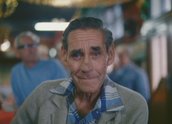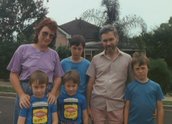 Living Room (1988)
Synopsis
An experimental documentary set in Sydney suburbia. A series of people pose for time-based portraits in their home environments.
Curator's notes
In David Caesar's beautiful and unsettling Living Room, a series of people stare into the camera, holding their poses as if for a photograph. Each inhabits a carefully composed frame that invites the eye to take in both subject and environment. The feeling of a photographic portrait is enhanced by Caesar's use of rich, naturalistic light and colour, and his exquisite use of focus and depth of field.
These portraits of 'ordinary' subjects are at once awkward, intimate and enigmatic, reminiscent of the documentary portraiture of photographers like Richard Avedon and William Eggleston, who Caesar names as influences. Speaking with australianscreen in June 2009, he also cites early ethnographic photography of Australian and American Indigenous people posed in their home environments. He was, he says, interested in 'the gaze to the camera – in terms of the vulnerability of the person and also the defiance of the person'.
Caesar wanted to explore the camera-subject relationship in documentary film, having become disenchanted with the presumptions of cinema vérité: that the camera could simply observe, without having an impact on the behaviour of its subject. Beyond this, he was interested in the ways in which an audience could extrapolate a narrative from these fleeting moments in 'the truth that was being created. Not the truth but a truth, not about the person but about a construct of elements of that person.' He was also interested in ideas of 'pure cinema': considering the medium's defining elements, what it could achieve that no other medium could. It is interesting that he explores this using portraiture, more commonly associated with photography than film. Yet Living Room's similarity to portrait photography is in part what draws our attention to some very cinematic differences: the presence of time and sound.
Together, the portraits form a meditation on Australian suburbia and notions of home. Starting with typical suburban homes, Caesar gradually expands his definition of 'living room' to include places like nursing homes, homeless shelters, a local pub and a meeting point where young guys do burnouts in their cars. He punctuates the film at intervals with grainy, almost abstract footage from a building site, accompanied by an eerie score.
Living Room evolved in part from Caesar's earlier, similar experimental documentary Shoppingtown (1987), which focused on a suburban shopping centre. His later film, Fences (1994), also employs abstract documentary to explore the space around people. Caesar's feature films include Greenkeeping (1992), Idiot Box (1996), Mullet (2001) and Dirty Deeds (2002).
Living Room won Best Documentary at the 1988 Melbourne International Film Festival. Caesar's documentary Body Work (1988) won the same award the following year.