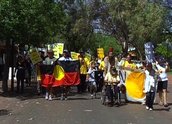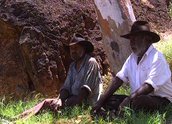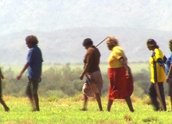 Living Country (2005)
Synopsis
A documentary about the Indigenous peoples of the Northern Territory's fight to prevent the federal government from dumping nuclear waste in their country.
Living Country is part of the Nganampa Anwernekenhe series produced by Central Australian Aboriginal Media Association (CAAMA) Productions. Nganampa Anwernekenhe means 'ours' in the Pitjantjatjara and Arrernte languages, and the series aims to contribute to the preservation of Indigenous languages and cultures.
Curator's notes
A beautifully made documentary that addresses the dumping of nuclear waste in the homelands of Indigenous peoples. The dumping of waste would do irreparable harm to the land, and would stop all traditional hunting and gathering, effectively poisoning the water and food sources of Indigenous peoples. The federal government announced their proposal to put a nuclear waste dump in Central Australia in 2005. The areas of Alice Springs and Tennant Creek were the likely sites. The documentary offers a window into the lives of the people who live in these areas, and the effect the nuclear waste will have on their well-being and their ability to live in accordance with traditional Indigenous values and cultural practice.
The federal government proposal treats the proposed dump sites as uninhabited land, but the documentary shows that these areas are in fact well populated. The seriousness of this issue, told from the perspective of the Indigenous peoples, is absolutely refreshing, and this documentary captures the intimacy with which the people inhabit the land and how the environment plays a central role in Indigenous cultural practice. All aspects of Indigenous culture, philosophy and religion have land as the foundation, and to disrupt the land is to threaten the continuation of cultural well-being.
The federal government's Commonwealth Radioactive Waste Management Act was passed on the 8 December 2005. The Act prevents any challenge to the waste dump decision.