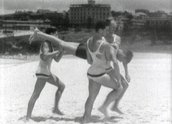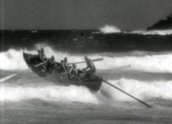 Life Guards at Bondi Beach (c.1929)
Synopsis
A fragment of actuality footage that shows lifesavers marching on Bondi Beach, a demonstration rescue of a person from the surf and lifesaving boats being rowed out into the surf in front of onlooking crowds.
Curator's notes
Thought to be from around 1929, this footage shows a Surf Life Saving carnival at Bondi Beach. The film uses dissolves, edits and fades to create simple sequences and convey a sense of narrative to the event. The swimming costumes, rescue equipment, resuscitation techniques and crowds all sit firmly in their time.
The film's provenance is unknown and what is held at the National Film and Sound Archive appears to be only a fragment of what was probably a longer production. It was deposited with the Archive by a private source.