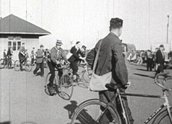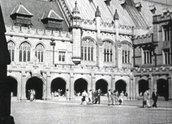 Land Short of People (1947)
Synopsis
This film is from a monthly documentary series, This Modern Age, and surveys Australian industrial, social and geographical conditions in the 1940s. It emphasises the need for an increase in population and discusses the new immigration program, grappling with the question 'how far does the future of the British race lie in the dominions' of the Commonwealth?
Curator's notes
Land Short of People was filmed in Australia as part of the English monthly documentary newsreel series This Modern Age by the Arthur J Rank organisation. The series ran from 1946 to 1951 and, at its peak, screened in 23 countries. This edition was distributed and screened in Australia as well as in the United Kingdom.
The style of the series was probably informed by the popular American documentary newsreel The March of Time. Like its American counterpart, This Modern Age addressed controversial issues in politics, international relations and current affairs. Both series commonly used an editorial format, persuasive commentary and a dramatic music score (this is used to great effect in the first half of clip one). Interestingly, The March of Time also influenced Rupert Kathner's independent newsreel Australia Today, which ran from 1938 to 1941. Kathner's newsreels tackled social and political issues not covered by the dominant Cinesound and Movietone newsreels.
Land Short of People is a strange mix of the achievements and setbacks that the nation has encountered and endured and contains many iconic images of European Australia. It is a narrative of white settlement pioneering against the odds – the tyranny of distance, the harsh conditions, and the massive landscapes – but also of a nation that has become prosperous and productive in that time, especially in the sectors of agriculture and mineral resources.
The male voice-over attaches Australia very strongly to the British Empire and the Commonwealth by regularly drawing comparisons between it and the Motherland. The film's main argument is that while the country has achieved much, its central dilemma is that there 'are just not enough people'. Likely screened to audiences in Britain, it appeals to postwar British and European migrants and notes that immigration from Asian countries could be 'problematic'. In the end, however, the narrator says that the current immigration policy (the Immigration Restriction Act or White Australia policy) may need to be reconsidered in order to maintain the growth needed for prosperity. Two years after this film was made, 800 non-European refugees and a number of Japanese war brides were admitted into the country. This was the beginning of the gradual demise of the White Australia policy.
In 1947 Australia's population was a mere 7 million, barely the size of metropolitan London at the time. Since 1947, Australia's population has almost trebled with approximately one quarter of Australians born overseas.