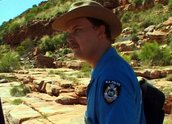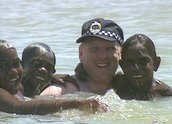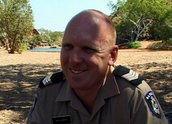 Kimberley Cops 2001
Producer Paul Roy comments on 'Kimberley Cops'
This series in the remote community of Wyndham with a tight group of eight policemen took close to a full year of filming in sometimes difficult conditions. It seems a long time for a four-part series, but when I analysed the films, the core material was shot in only 15 days. But of course they had to be the right 15 days and if I wasn't there the rest of the year would be wasted. Although the majority of the time was waiting and inaction, this proved beneficial in the end as I was with the coppers every single day either at the police station or taking part in other community activities with them – cricket matches, fishing etc. After a time I was very much a part of the team, so when filming did happen they were able to be themselves and trusted me completely. The advantage of being so long with the subjects is they don't modify their behaviour because the camera is there – a little at the start of course but it is impossible to keep up long-term.
I am pleased the films were so widely seen and they showed a positive side to West Australian police – who have often had a bad name in the past. In a largely Aboriginal community the coppers were compassionate and understanding – firm if they needed to be, but overall respectful and integrated to a surprising degree with the communities in which they worked – even to the extent of one copper adopting an Aboriginal boy. As a filmmaker it was a wonderful experience for not only myself but the family (wife and three kids) who moved up as well for most of the year until the wet season. It gave me an insight into not only the coppers but the life of the small communities of the region and the challenges they face.
The project as a whole would not have been possible without the work of Mike Osborn, a Wyndham local who the police knew and trusted and was variously croc catcher, fishing guide, driver, Aboriginal liaison and sound recordist into the bargain.
Paul Roy Producer, Director, Camera, Writer
Disclaimer: Any opinions, advice, statements, views or other information expressed by the creator/s (including in relation to any third-party content they submit to the site) are solely provided by, and the legal responsibility of, the creator/s and not of the National Film and Sound Archive. While the NFSA will monitor the contents of submissions from creator/s, we do not certify, endorse or verify the contents of any communication published on this page. The National Film and Sound Archive reserves the right to remove any comments from this page at its discretion; this reservation creates no affirmative duty in the NFSA, and failure to exercise this power shall not subject the NFSA to any liability of any sort. If you have any concerns about this content please contact editorial@aso.gov.au.