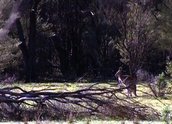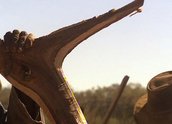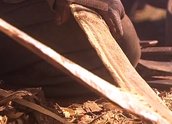 Karli Jalangu – Boomerang Today (2004)
Synopsis
An observational-style documentary about the making of a number seven boomerang by four senior traditional men from Central Australia.
Karli Jalangu – Boomerang Today is part of the Nganampa Anwernekenhe series produced by Central Australian Aboriginal Media Association (CAAMA) Productions. Nganampa Anwernekenhe means 'ours' in the Pitjantjatjara and Arrernte lanuages, and the series aims to contribute to the preservation of Indigenous languages and cultures.
Curator's notes
Karli Jalangu – Boomerang Today is an important documentary that is intended to pass on the traditional skill of making a number seven boomerang. The selection of the perfect tree, the harvesting and the carving of it to roughly shape the tree root into the number seven boomerang, is filmed at an observational pace. Choosing to film the senior men who carefully and slowly make their decisions during the process of producing the number seven boomerang allows the audience to get a feel for the energy, skill and collaboration on the creation of the weapon. It is a time-consuming process, and by the documentary's end, we have no doubt of this.