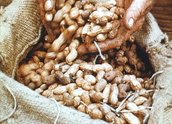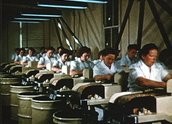 Just Peanuts (1954)
Synopsis
This documentary filmed in Queensland details the growing, harvesting, distribution and processing of peanuts. It also features peanut-related products, 'ETA' company vans advertising peanut butter leaving the factory, and children consuming peanut butter in school canteens.
Curator's notes
This well-made documentary is produced by a specialist in the field of sponsored and industrial film – Kingcroft Australia. Producer John Kingsford Smith (nephew of Sir Charles) was born in south-east Queensland not far from Kingaroy where this documentary was filmed. The film shows the production of peanut products from growing through to consumption. The film might have been commissioned by any number of interested parties – the Queensland Government, Kingaroy tourism or the peanut industry. As well as promoting the wide range of products that use peanuts, Just Peanuts also promotes south-east Queensland as a productive region for primary and secondary industry.
John Kingsford Smith worked for Cinesound studios in the 1930s and 1940s before co-founding Kingcroft Productions. His first major success as an independent producer was The Inlanders (1949), which he made for the Australian Inland Mission. The warm reception this documentary received ensured that Kingsford Smith, with his newly formed production company Kingcroft Australia, became a successful and prolific producer of documentaries over the next two decades. From 1948 into the 1980s, he produced 327 sponsored films and commercials and played a key creative role in all of them (as writer, director, cinematographer or editor). In 1979, an oral history recording was made with John Kingsford Smith as part of the Film Pioneers Project of the National Film and Sound Archive. In it, he speaks candidly about his life and career in the industry.