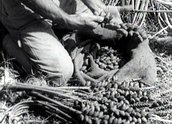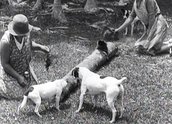 Jewel of the Pacific (1932)
Synopsis
Lord Howe Island is the subject of this short travelogue made by Frank Hurley during a camera tour of the island in 1932. It shows the island's geographical features, its local population, a group of men gathering kentia palm seeds for export (clip one), women hunting rats (clip two) and the rock pools and coral reef which ring the island.
Curator's notes
Jewel of the Pacific was one of Frank Hurley's Pacific Graphilogue series of travelogues made throughout the region. It presents Lord Howe Island as a tropical Eden, removed from the worries of civilisation, whose islanders are content and carefree. At the time, the local population numbered less than 200 people and there were no motorised vehicles on the island. The tranquillity of island life, along with the wildlife, produce and tropical terrain, are presented as the unique characteristics that make the island such an alluring place.
Hurley is best known as a photographer and cinematographer who had the ability to capture incredible footage in extreme conditions (see Home of the Blizzard, 1917; Endurance, 1933). He made his name with these expedition films but also worked as a cinematographer for Cinesound in the 1930s on features including The Squatter's Daughter (1933) and The Silence of Dean Maitland (1934).
His skills as a cinematographer are evident in this travelogue (see clip one where he films the group walking along a slim mountain ledge), but much of the pleasure in watching this film comes from the enthusiasm of Hurley's lively voice-over narration. It is given in an informal commentary style, injected with moments of humour that add immediacy and intimacy to the images on screen. Travelogues were a nonfiction format that suited Hurley's sense of adventure and passion for travel. Other travelogues that Hurley made include Treasures of Katoomba (1936), Follow the Sun (1938) and Isle of Many Waters (1939).