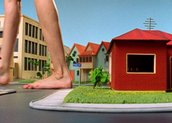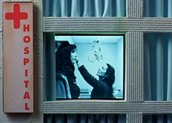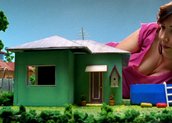 Jabe Babe: A Heightened Life (2005)
Synopsis
Jabe Babe: A Heightened Life tells the story of Jabe Babe, a dominatrix with the genetic condition Marfan syndrome. The film examines Jabe's removal from her schizophrenic mother as a child and her experiences in the foster care system. This imaginative documentary questions society's obsession with sexual, visual and genetic conformity.
Curator's notes
Director and writer Janet Merewether, along with cinematographer Jackie Farkas and designer Karla Urizar, create an inventive fantasy world that Jabe cleverly interacts with. Jabe is an elegantly dressed giantess striding through a tiny streetscape, lying seductively behind a model house, lifting roofs off the replica houses of her childhood and watching episodes of her life on black-and-white television screens.
Jabe never had much of a childhood, which adds poignancy to the 'fantasy world' in the film. Her mother, who was schizophrenic, didn't enrol her in school and often took her to Kings Cross strip clubs in the evenings. Jabe was taken from her mother at age seven and ended up in eight foster homes before she turned sixteen. All her young life she was abused and ridiculed. Often told that she would not live long, Jabe didn't take school seriously or train for a profession.
For Jabe, Marfan syndrome caused bodily disproportion, damaged her eyesight and enlarged her aorta. Her unusual height (188 cm or six foot two inches) affected her relationships with friends and lovers. She eventually became a dominatrix where she could use her height to great effect. Being a dominatrix helped her understand herself. She says, 'Bondage and discipline is a very accepting subculture. You are welcome to appreciate the bizarre – and I was bizarre.'
The filmmaker illustrates Jabe's insights about her feelings, work and relationships with stylised sequences. As she describes being destructive in relationships, Jabe's gigantic face peers into a skyscraper apartment window. She smashes it and plucks out the man inside, dangling him by his foot and dropping him into her mouth. Jabe has said that having a film made about her was the most confronting thing she'd ever done, the equivalent of ten years in therapy. 'The bizarre thing is, I'm really quite shy. When I saw the film for the first time, I thought, "My God, I'm actually quite lovely!"'
Marfan syndrome is one of the most common, but surprisingly least-known, genetic disorders. It is often fatal if it goes undiagnosed. It affects one in 3,000 people irrespective of race or gender. Jabe was diagnosed with the help of the first of her many foster parents. During the making of Jabe Babe, Jabe found out that the advances in heart surgery meant that she could live as long as anyone if she was careful and managed her condition appropriately. From then on, her outlook changed. She explored working as a mortician in the funeral industry, an intriguing choice given her sense of mortality.
Sadly, Jabe died on 6 April 2008 from heart failure, a complication from Marfan syndrome. She was 34 years of age. Jabe Babe celebrates her life and informs audiences about this common genetic disorder in a provocative and entertaining manner.
Jabe Babe screened on SBS TV in November 2005. It won the IF Award for Best Documentary in 2005; the AFI Award for Best Directing in a Documentary, 2005; and a Merit Award at the 2006 Taiwan International Documentary Festival. It screened at the Melbourne, Sydney and Brisbane film festivals as well as at festivals in Munich, Toronto, Israel, Leipzig, Boston and the UK.