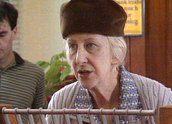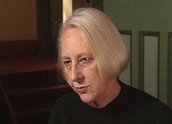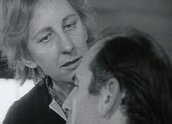 It's Ruth: Ruth Cracknell, Actor 1994
Producer Christina Wilcox comments on 'It's Ruth: Ruth Cracknell, Actor'
'I've been lucky, all my life, and I have a couple of fantastic guardian angels'. This is how Ruth Cracknell sums up her long and hardworking career as an actor in the documentary It's Ruth.
Contradictions (such as hard work versus luck) underlie Ruth and her work. These contradictions attracted, intrigued and pleased audiences for almost half a century. She has played great tragic roles in the plays of Shakespeare and Sophocles and first displayed her comic talent on stage in the Phillip St Revues during the 1950s and 60s. There is an underlying comedy in her tragic roles and touches of tragedy in her comic roles. There is lightness in her severe characters and severity in her light characters. The culmination of her ability to play the comic and tragic alongside each other occurs when she plays Winnie in Samuel Beckett's Happy Days.
It's Ruth begins as a romp with Ruth as Maggie Beare through some of the zaniest scenes of Mother and Son (1985-1994) and ends with her as Winnie in Happy Days, with the sad and touching attempt to sing a song of optimism in the face of death. It's Ruth parallels these opposites and juxtaposes the serious and sad to cover some highlights of a career that charts a course for the professional actor in Australia and spans almost 50 years.
Interviews in the film focus on the comic and eccentric in Ruth Cracknell's world. They interweave with drama sequences from the wide variety of roles she has played over her career from plays, film and television. As well as Happy Days, these include Elizabeth Jolley's short story Woman in a Lampshade, Oscar Wilde's play The Importance of Being Earnest, Gillian Armstrong's film The Singer and the Dancer (1977), Jim Sharman's film of Patrick White's The Night the Prowler (1978) and Neil Simon's play Lost in Yonkers. All are represented in the opening montage of It's Ruth.
This was the fourth documentary film where I worked with the same director of photography, Erika Addis, and sound recordist, Bronwyn Murphy. Each made significant contributions, particularly so in filming a performance of Happy Days at the STC Wharf Theatre – never easy with an audience present; no second takes! It was the third time I worked with Denise Haslem as editor. Her lack of sentimentality, and her sense of humour and timing, were good disciplines for this subject matter. I love talking about music for a film. It is the fourth time I have worked with composer Felicity Fox and our conversations on this project focused mainly on the contradictions and ambiguities in Ruth Cracknell's work. I wanted the music which introduced and ended the program to reflect these things, and believe it does, with the grandeur of full orchestration and the lightness of whimsical discordance.
Christina Wilcox Producer, Director
Disclaimer: Any opinions, advice, statements, views or other information expressed by the creator/s (including in relation to any third-party content they submit to the site) are solely provided by, and the legal responsibility of, the creator/s and not of the National Film and Sound Archive. While the NFSA will monitor the contents of submissions from creator/s, we do not certify, endorse or verify the contents of any communication published on this page. The National Film and Sound Archive reserves the right to remove any comments from this page at its discretion; this reservation creates no affirmative duty in the NFSA, and failure to exercise this power shall not subject the NFSA to any liability of any sort. If you have any concerns about this content please contact editorial@aso.gov.au.