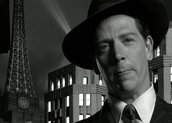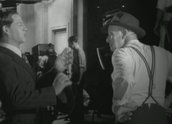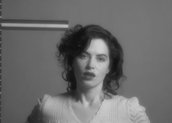 Hunt Angels (2006)
Synopsis
Hunt Angels is a dramatised documentary based on the life of the virtually unknown filmmaker Rupert Kathner (Ben Mendelsohn) and his collaborator, Alma Brooks (Victoria Hill). It tells the story of a struggling filmmaker in the 1930s and '40s who dreams of a national cinema with Australian stories and voices at a time when Hollywood dominates.
Curator's notes
Hunt Angels is a portrait of Rupert Kathner through the trials and tribulations of trying to make Australian fiction feature films and newsreels along with his cohort, Alma Brooks. Both were ruthless, had extraordinary energy and determination, were passionate about making films and believed that Australians needed to see Australian faces and stories in the cinema.
Kathner and Brooks come across as mavericks who charmed, stole, begged, borrowed, conned and cheated to make their films. The title of the film comes from one of the names Kathner used for himself on the credits – Hunt Angels. He called investors 'angels' and he was always on the hunt for them.
The film inventively uses digital composite techniques to make the characters come alive in the Sydney environs of the period. Their story is told through eyewitness accounts, dramatised re-creations, historical film, photographs, newspaper items, court records, confidential police files and footage from their movies. The film raises many issues – the impact of foreign monopolies on the Australian film industry; the nature of cultural identity, history and representations of history; and the roles of women in Australian cinema history.
Award-winning writer-director Alec Morgan was researching for a television history series Our Century (1999) when he came across a 1930s crime film, Australia Today – The 'Pyjama Girl' Murder Case (1939). He noticed it because it was 'topical, racy, rough … [and ] had enormous energy', not one of the dull travelogues prevalent at the time. (Incidentally, The 'Pyjama Girl' Murder Case is one of the most viewed titles on australianscreen). When Morgan came across another, more comical film by the same filmmaker, he was compelled to investigate further.
The hybrid style and elements in Hunt Angels skilfully enhance the storytelling, such as the Kathner character speaking conspiratorially direct to camera, letting the audience in on the 'secret' steps to making films. There is poetic license used with some of the dialogue in the film but Morgan was able to lift speeches from Kathner's book, Let's Make a Movie (1945), since, according to Morgan, Kathner 'wrote like he talked'.
The digital compositing of all the material gathered ended up being extremely complicated. Morgan and producer Sue Maslin brought on board DOP Jackie Farkas, digital compositor Rose Draper and visual effects consultant Mike Seymour from an early stage. There was a close collaboration over the five months pre-production period to nut out exactly how they would have to shoot the film, the format and pathways they would have to follow to be able to stream the historical film, live action, animation and graphically-created items together to create the world that Kathner and Brooks existed in.
On their own films, Al (Alma) Brooks was the producer, cinematographer and sometimes acted or performed the stunts. It seems there was 'nothing she couldn't do', according to Morgan. Kathner directed and played many roles in their films because of extreme budget limitations. By the end of Hunt Angels, an audience has a good idea of who Kathner and Brooks were and what they did. In an entertaining way, the film gives Rupert Kathner and Alma Brooks their much deserved place in Australian cinema history.
Hunt Angels premiered at the 2006 Melbourne International Film Festival, and also screened at the 2006 Brisbane and 2007 Hong Kong film festivals. The film won 2006 AFI Awards for Best Documentary, Best Cinematography in a Documentary and Best Visual Effects. In 2006, it was also awarded Best Feature Documentary by the Film Critics' Circle of Australia and ATOM. It aired on ABC1 on 4 February 2008.