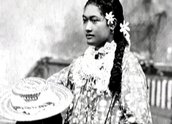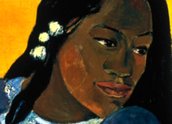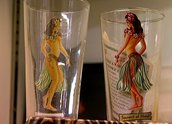 Hula Girls, Imagining Paradise (2005)
Synopsis
The 18th century discovery of Polynesia by both the British and French started a fantasy about island paradises and beautiful unrestrained women. This film traces the creation of the Western image from French explorer Bougainville's reports to Gauguin's paintings. The influence of missionaries, the field of anthropology and the rise of cultural tourism are also presented as contributors to the Hula girl myth.
The documentary is narrated by Kerry Armstrong and incorporates historical footage, excerpts from Hollywood films, paintings, maps, interviews with academics and considers objects such as Hawaiian dolls and exotic souvenirs.
Curator's notes
Hula Girls looks at both the origins of the image and the reasons why the Polynesian Hula girl remains such a potent image in popular culture. The use of a female narrator (Kerry Armstrong) together with a generous use of images from Hollywood cinema and art history make it a sumptuous film which itself perpetuates the allure of the fantasy. The film clearly laments the destruction of paradise and in its own way uses the mythology to promote itself. The documentary's publicity says 'Hula Girls: Imagining Paradise is a deliciously compelling look under the lei'.
The complexities and contradictions of cultural exchange are beautifully presented by Graham who has had made a number of documentaries about the colonial encounter, cultural exchange and South Pacific and Indigenous cultures including Land Bilong Islanders (1990), Sugar Slaves (1995) and Mabo: Life of an Island Man (1997). In Hula Girls, Graham makes use of Frenchman Louis Antoine de Bougainville's and Captain William Bligh's accounts of Tahitian women in the 18th century. The impulse to both vilify and exoticise the image of the Polynesian woman is evident even in these early historical accounts and this is the starting point for Graham's film. Perhaps the most enlightening insights come from Dr Katerina Teaiwa (now coordinating the Pacific Studies program in the Asian Studies faculty of the Australian National University) who succinctly describes the cultural transformation of traditional Polynesian society (including its spiritual hula dance) by the Western imagination into a (male) fantasy that presents the Polynesian woman as beautiful and exotic.