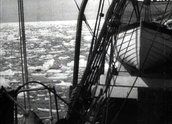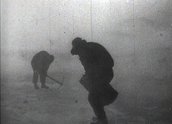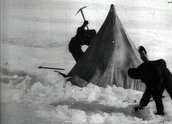 The Official Film of the Mawson Antarctic Expedition (c.1916)
Synopsis
This film documents part of the treacherous 600 mile 1911–1914 expedition to the Magnetic South Pole led by Sir Douglas Mawson. The documentary features the team's departure from Hobart, Tasmania aboard the vessel Aurora. It shows wildlife at Macquarie Island and Cape Denison on the coast of Adelie Land and the day-to-day hardships endured by the team.
Curator's notes
In 1911 Frank Hurley, a Sydney based stills photographer, was asked by Douglas Mawson to become the official photographer for the Australian Antarctic Expedition in order to raise funds for further expeditions.
Frank Hurley had an artist's eye for beauty and composition and had the technical skill to bring his ideas to life. Determined as well as skillful, Hurley produced documentaries and glass slides in horrendous conditions including gale force winds and temperatures well below zero.
Hurley's photography gives a sense of the sheer expanse and magnitude of Antarctica and its environs. He also conveys the strength of character found in the men that make up the expedition team.
Perhaps from lack of time, or perhaps to keep the focus on the pictures, Hurley did not use intertitles or captions. Being silent, there may have been live narration during cinema screenings.
Hurley hastily returned to Australia and assembled the film to assist in raising finances to fund Mawson's return. The film was released to an enthusiastic response by West's Pictures in July 1913 as Life in the Antarctic.
The film was also screened in England where it attracted the attention of explorer Sir Ernest Shackleton who subsequently appointed Hurley as official photographer on his 1914 polar expedition aboard the Endurance. The film of this journey was called Endurance or In the Grip of Polar Ice.