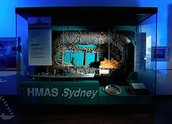 National Treasures – HMAS Sydney's Carley Float (2004)
Synopsis
Warren Brown talks to Australian War Memorial curator John White about the tiny, war-ravaged float from HMAS Sydney whose entire crew of 645 was lost when the ship sank after a mysterious battle off the West Australian coast in 1941.
Curator's notes
One of the most poignant objects in the Australian War Memorial is the battered survivor of our worst-ever naval disaster. What happened to this liferaft and why is it so special?
This is an episode from the first series of National Treasures, hosted by political cartoonist, columnist and history 'tragic' Warren Brown. Brown draws on a fascinating mix of national treasures from public and private collections to give a snapshot of an historic moment and illustrate the uniqueness of the Australian experience.
The ABC broadcast National Treasures in 2004.