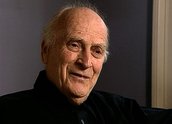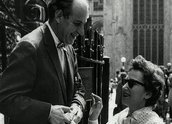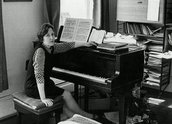 Hephzibah (1998)
Synopsis
A biography of Hephzibah Menuhin (1920-1981), using home movies, still photographs, extracts from Hephzibah's letters, film of concert performances and interviews with family and friends.
Hephzibah and her brother Yehudi, a violinist, were child prodigies. She was a concert pianist performing in London when she met and married an Australian grazier, Lindsay Nicholas. Yehudi married Lindsay's sister, Nola. The Nicholas' were heirs to the drug company that marketed Aspro. Hephzibah lived at Terinallum, a sheep property in Victoria's western district, with Lindsay. They had two children. In 1951 Hephzibah left the marriage to live with and later marry a Viennese sociologist, Richard Hauser. They moved to London in 1957, where Hephzibah continued to perform. She was an early feminist and established the Centre for Human Rights in London with Richard in their London home.
Curator's notes
This stylish documentary is longer than the usual 50-minute biography. Director Curtis Levy chose to make the film because his mother was a close friend of Hephzibah and he knew her himself. The film is an enjoyable experience, providing musical interludes with Hephzibah and sometimes her brother, Yehudi, playing concert performances.
Levy uses framed intertitles to give the home movies a silent film comic effect, and his interviews provide meaningful insights into the subject. Hephzibah's letters to friends, read effectively by actress Kerry Armstrong, give a powerful insight into her feelings and emotions. Levy has very successfully painted a portrait of a woman ahead of her time – she was imperfect, passionate, talented and driven by a humanitarian instinct.
The film was originally made for television, but in 2006 the film was given a new lease of life when it was given a theatrical release in Sydney, Melbourne and Canberra. The film's re-release was most successful (in Sydney the film ran for three months). Hepzibah won the AFI Award for Best Australian Documentary Film, the Silver Wolf Award for Best Documentary Film at the Internaional Documentary Film Festival Amsterdam and the Film Critics Circle of Australia Award for Best Australian Documentary. Curtis Levy's credits include, The President Versus David Hicks, High Noon in Jakarta, Riding the Tiger and Breakout.