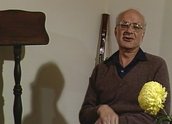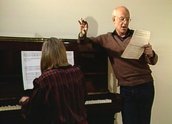 George Dreyfus: A Portrait (1984)
Synopsis
Australian composer George Dreyfus marks this biography with his own whimsical style. He talks about how he composed 'Peace', 'Mary Gilmore goes to Paraguay', 'Rush', 'Deep Throat', the 'Ned Kelly Ballads' and 'Australian Folk Mass'.
Curator's notes
The documentary is a good example of how lively biography can be when the subject is prepared to satirise themself.
George Dreyfus was the first of three shorts made by producer-director Jane Carnegie for her nascent film business Anketell Productions in 1984. The other two shorts were Push the Clay: David Potter and How to Handle a Computer. Anketell Productions then produced a short film for the Victorian Tapestry Workshop, called Fusion: Australian Tapestries in 1985.