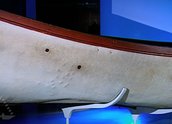 National Treasures – Gallipoli Boat (2004)
Synopsis
How did a lifeboat, left to rot on the shores of Gallipoli, come to have pride of place at the Australian War Memorial in Canberra?
Curator's notes
Curator John White from the Australian War Memorial tells Warren Brown the story of this little boat's tumultuous journey. Brown helps us imagine what it was like for those first Anzacs on the day that helped forge Australia's identity.
This is an episode from the first series of National Treasures, hosted by political cartoonist, columnist and history 'tragic' Warren Brown. Brown draws on a fascinating mix of national treasures from public and private collections to give a snapshot of an historic moment and illustrate the uniqueness of the Australian experience.
The ABC broadcast National Treasures in 2004.