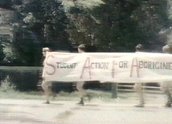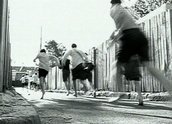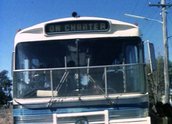 Blood Brothers – Freedom Ride (1993)
Synopsis
A documentary that intercuts interview material with historical footage, Freedom Ride, written and directed by Rachel Perkins, delves into the political motivations of her father, Dr 'Kumantjayi' (Charlie) Perkins. Perkins was a university student in the 60s and led other students on a 'freedom ride' through rural communities where the segregation between whites and Aborigines were still in place.
Curator's notes
The second episode of the Blood Brothers series written and directed by Rachel Perkins, gives a good account of the political motivations and emergent voice of Dr 'Kumantjayi' (Charlie) Perkins. Dr 'Kumantjayi' Perkins as a young university student organised a 'freedom ride', modelled on the freedom rides organised in the USA by African Americans to fight racial segregation and discrimination. The close relationship between father as subject and daughter as interviewer gives this film an intimate feel, and the importance of the work of political activist Dr Perkins is documented in the work of his daughter Rachel. The first Aboriginal person to graduate from a university, Dr Perkins became one of the most important Indigenous leaders of the modern era. See also:
Rachel Perkins is one of the most influential Indigenous filmmakers in the present time. The content of Rachel Perkins' films is very much about Indigenous cultural preservation, and communicates the significance of Indigenous cultural practice and tradition to both Indigenous and non-Indigenous peoples. Other films by Rachel Perkins include Radiance (1998), One Night The Moon (2001), Yeperenye Federation Festival: The Road Ahead Concert (2003).
'Kumantjayi' is the name used in Arrernte culture when a person is deceased. Dr Perkins passed away in 2000, and in the culture of the Arrernte people, the person's first name is replaced with the word 'Kumantjayi' out of respect. See also ABC Message Stick online.
You can watch an interview with Charles Perkins at Australian Biography.