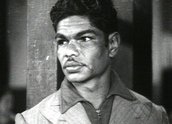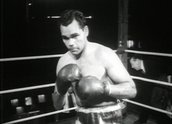 Fighting Blood (1951)
Synopsis
This Cinesound documentary directed by Clive Ross highlights the talents of Australian fighters, including Aboriginal boxers Alfie Clay, Elley Bennett and Dave Sands. It also features historical footage of one of Australia's most well-known fighters, Les Darcy.
Curator's notes
During the 1930s and 1940s, Cinesound Productions was at its peak – it produced 17 feature films, dozens of short industrial films for private and public sponsors and established its own weekly newsreel Cinesound Review (1931–70, see Cinesound Movietone Australian Newsreels). By the 1950s, feature film production for Cinesound had stopped entirely but its documentary production continued to flourish. This 18-minute film would have provided material for the Cinesound Review newsreel, but would also have screened as a featurette in cinemas.
Secondary curator's notes
by
Liz McNiven
The Australian Aboriginal boxers featured in Fighting Blood – Elley Bennett, Alfie Clay, Jack Hassen, Ron Richards and Dave Sands – are not just champion Aboriginal boxers, they are Australian sporting legends.
Produced within a magazine program format, Fighting Blood begins with an Aboriginal camp scene followed by a group of Aboriginal men, with spears raised, charging forward. The narrator suggests a connection between an Aboriginal 'warrior' past and present-day boxing.
This film holds national significance as a rare and important sporting document. It highlights the value of Aboriginal boxers to the boxing fraternity. The film makes this point when Alf Clay from Cloncurry in Queensland arrives in Sydney and knocks on the door of boxing trainer Ern McQuillan. The narrator says, 'No sensible trainer ever turns away an Aboriginal scrapper, he might be turning away a meal ticket'.
Scenes of the boxing matches show a predominantly white audience watching mostly Aboriginal and other non-white boxers. With severely limited opportunities open to Aboriginal men at the time, boxing provided a reasonable income. Jack Hassen, like many Aboriginal boxers, entered professional boxing after travelling with tent-boxing troupes – like that of the legendary Jimmy Sharman – performing on the country town show circuit (re-created in the feature September, 2007).
Fighting Blood portrays Elley Bennett, bantam and featherweight champion from 1948 to 1954, at the pinnacle of his career. Bennett is shown at the gym, sparring in the ring and receiving a massage from his trainer. It also showcases the all-time boxing great Dave Sands, renowned for winning 97 out of his 110 fights.
This culturally significant film contains an important piece of Aboriginal sporting history and stands as a testament to the prowess of Aboriginal boxers.