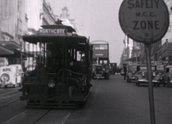 Fez Please (c.1935)
Synopsis
A short silent documentary made by the Owen Brothers about Melbourne's fast-disappearing cable trams.
Curator's notes
Fez Please pays simple tribute to Melbourne's cable trams by showing them in all their glory, travelling through the city's CBD. The introductory text states that it is 'dedicated to the passing of Melbourne's quaint cable trams' which will 'shortly sink into oblivion'.
The rest of the six-minute film captures the cable tram amongst the hustle and bustle of mid-1930s Melbourne, with illustrated intertitles acting as chapters. The title is a rendering of 'fares please' as it might be pronounced by a busy tram conductor. The documentary Commuting by Cable (1988) also features historical footage of Melbourne's cable trams and the maintenance of the cable tram system.
The Owen Brothers (Harrie and William) were based in Melbourne and their familiarity with and affection for the city is clear in this film. The Owens began making films in the 1930s, both live action and animation. They set up Owen Brothers Animated Films in Melbourne and produced a number of animated propaganda pieces for the Australian Government during the Second World War.