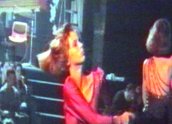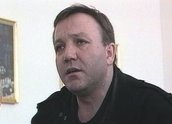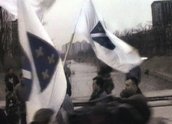 Exile in Sarajevo (1997)
Synopsis
An observational documentary as Australian filmmaker Tahir Cambis and Sarajevo local Alma Sahbaz record the last six months of the Bosnian War.
Curator's notes
Bosnian-Australian Tahir Cambis travelled to the city of Sarajevo in 1995 three years into its siege by Bosnian Serb forces. This moving and poignant record covers the last six months of conflict and focuses on the impact of the war on the civilian population in Sarajevo, particularly its children (see clip one). Cambis is both insider and outsider in this story and the film unfolds like a visual diary as he meets the city's people, learns of the personal impacts of the war and comes to terms with his own cultural history.
Exile in Sarajevo offers an alternative portrayal of the Bosnian War and the Siege of Sarajevo to the mainstream news coverage by telling the story of the city's residents. Cambis meets Alma Sahbaz, who becomes his sound recordist and later co-director. Both Cambis and Sahbaz narrate their reflections in voice-over throughout the film. The children's stories are the most poignant – that of Amira, a witness to rape and torture who has documented her experience and Nirvana, a twelve-year-old killed by a shell.
Cambis incorporates news footage, press conferences and quotes from United Nations representatives to provide some of the broader political context. He juxtaposes the reality experienced by individual Sarajevans with the 'official' accounts of how the war unfolded to suggest that the international community was unable if not unwilling to come to their aid.
Cambis initially had a camera operator to film events, but after the 15 weeks of budgeted shooting came to an end, the camera operator returned to Australia. Cambis and Sahbaz decided to continue recording the conflict to its bitter end equipped with a Hi8 camera. Tom Zubrycki, who produced Exile in Sarajevo, has noted that access to this video technology allowed Cambis to complete his film and is one of the benefits of the video revolution.
Exile in Sarajevo won Best Documentary, Australian Film Critics Circle and Best Documentary, Melbourne Film Festival as well as an International Emmy Award for Best Documentary in 1998. In 2004, Cambis co-directed Anthem: An act of Sedition with Helen Newman, a film that questions contemporary values in the face of human rights challenges and the 'war on terror'. Tom Zubrycki has supported several independent filmmakers such as Cambis including Darlene Johnson's Gulpilil: One Red Blood, and Stolen Generations and Rachel Landers' Whiteys Like Us.