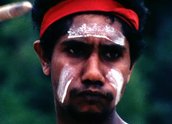 Eelemarni, The Story of Leo and Leva (1988)
Synopsis
A short film about a Dreaming story from the Bundjalung people.
Curator's notes
Leo and Leva is a documentary made at the request of Mrs Millie Boyd who wanted to clarify tribal boundaries in far northern NSW. Mrs Boyd tells her story which is illustrated in re-enactments. The simplicity of the story is enjoyable, and as the audience we are privileged to hear it, as it is the kind of story one would tell around the fire or hear at the feet of an elder.
The story is important in defining tribal boundaries between the Ngarabul people in northern NSW. The time-frame of the story – whether it is contemporary or happened pre-European settlement – is ambiguous, and the transition of how Leva came to be Leo's wife occurs in an unclear way. It is very much told in the fashion of a story that has an uncertain narrative objective, but as a yarn it is still fulfilling. The film itself is an example of Indigenous non-linear storytelling, but the contemporary names of Leo and Leva, in conjunction with the contemporary looking re-enactment, confuses the story somewhat. It is certainly a tale that requires more context, though the short format of the film cannot accommodate this narrative requirement. Eelemarni: Leo and Leva was the co-winner of the Erwin Radio Award for best film at the Melbourne Film Festival in 1988.