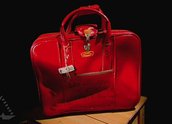 National Treasures – Cuc Lam's Suitcase (2004)
Synopsis
If you were forced to leave your home forever, what would you take with you? Vietnamese refugee Cuc Lam took family photos and jewellery but sacrificed one precious possession to buy a suitcase, now in Melbourne's Immigration Museum.
Curator's notes
Cuc Lam talks to Warren Brown about her journey to Australia and how this small red vinyl bag was a symbol of a new beginning in a new country.
This is an episode from the first series of National Treasures, hosted by political cartoonist, columnist and history 'tragic' Warren Brown. Brown draws on a fascinating mix of national treasures from public and private collections to give a snapshot of an historic moment and illustrate the uniqueness of the Australian experience.
The ABC broadcast National Treasures in 2004.