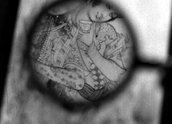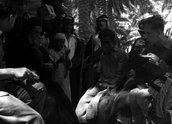 Cradle of Creation (1944)
Synopsis
A compendium of the Middle East filmed by Frank Hurley during his years working as an official war photographer in the Second World War. It covers Iran, Iraq, Jordan and Israel, including the cities of Tehran, Basra, the ancient city of Petra and Jerusalem, with a focus on the region's cultural heritage and natural environment.
Curator's notes
Frank Hurley spent six years filming in the Middle East during the Second World War as an official war photographer for the Australian Department of Information (late 1940–1942) and Middle East director of Army Features and Propaganda Films with the British Ministry of Information (1942–46). Hurley loved the Middle East and was familiar with the region, having recorded the experiences of Australian troops in Palestine during the First World War. Cradle of Creation was probably compiled by Hurley from the footage he'd shot as an aside to his official capacity and it is more akin to his travelogues filmed in the 1930s which featured a range of exotic locations and cultures (within and beyond Australia's shores). Because it was not produced in his official capacity as war photographer, Hurley was able to turn his camera on the locations and people that often only featured as a backdrop to official war footage of Australian troops on the frontlines. Indeed, the war barely registers in this film (with the exception of brief scenes in Basra – a vital port for the British allied forces who used it to ship war supplies). Hurley draws on travel photography and his strong sense of pictorialism to present the region as one of beauty and texture (see the street scenes in clip three). He also highlights the region's rich cultural heritage (see clip one), traditional ways of life (see clip two) and the diverse and vast terrain.
Hurley made another compilation of the Middle East region in 1945. Mid-East featured Egypt, including the Nile river and the pilgrimage from Cairo to Mecca.
Hurley began his career in photography when he started working for a postcard company in Sydney. Throughout his career he pursued both still photography and cinematography in some of the most challenging and extreme landscapes (including Antarctica, Papua New Guinea and on the frontlines during the First and Second World Wars). His body of work testifies to his place as one of Australia's foremost chroniclers of Australian history and achievement. As well as working in the field of actuality, Hurley shot a number of feature films for Cinesound Productions and also produced a series of travelogues. The National Film and Sound Archive, the Australian War Memorial and the National Library hold most of Hurley's significant photographic and cinematographic works within their collections.