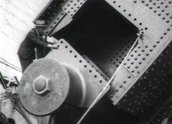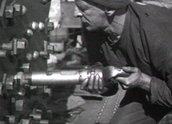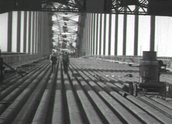 Construction of Sydney Harbour Bridge (1931)
Synopsis
A comprehensive pictorial record that chronicles the construction of the Sydney Harbour Bridge between 1925 and 1931, filmed by the Paramount Film Service, Sydney.
Curator's notes
This extraordinary survey of the building of the Sydney Harbour Bridge, easily one of the country's greatest engineering feats, reveals the sheer scale and enormity of the project. Aside from Commonwealth sponsored productions of the Bridge construction, it is probably the only comprehensive moving image record of the project as a whole. Certainly it is the longest running, at over 100 minutes in length.
Filmed over a six-year period, it covers the preliminary work and excavations of the site, the construction of retaining walls and abutments at the approaching ends of Dawes and Milson's Points, the slow building and positioning of the steel arches, and the finishing touches such as laying the road and rail tracks.
Many people were employed on the project – not just the workers on the bridge, but steel workers, stonemasons and engineers. Important sections of this film document the associated steelworks, granite quarry and stone dockyards that supplied the building materials to the Bridge itself. The first fifty minutes of footage covers the years 1927-1929 and mostly details the excavations and the building of abutments and support beams. The selected clips come from the last half of the film and cover the later years, 1929-1931, when the major part of the bridge span was under construction and beginning to take its shape. The camera work is executed from various angles and filmed from both fixed and moving positions at different points along the bridge. There are also aerial shots that survey the Bridge in the context of the harbour and surrounding cityscape, and progressive views of the bridge at various points in its construction.
Historical records not only provide an image of the times, but a comparison with the present. For example the workers on the bridge who climb dexterously along its narrow beams high above the waters below, wear almost no safety equipment and seem to defy both gravity and chance as they carry out their work. It is astonishing to think that only a handful of the workers perished during the Bridge's construction given these conditions. A short section of this film also shows workmen doggedly battling rough seas in an unfriendly harbour!
The bridge was completed in 1931 and was, according to this documentary, 'one of the greatest British engineering feats dominating the skyline' in the British Empire. But while it may have been a great achievement for the British engineers and for the British Empire, the Sydney Harbour Bridge was undoubtedly Australia's own. The National Film and Sound Archive holds a number of film prints of Construction of Sydney Harbour Bridge deposited from various private and public sources. The Paramount Film Service also filmed a newsreel special of the official opening of the Sydney Harbour Bridge in 1932.