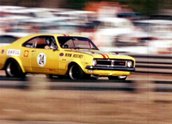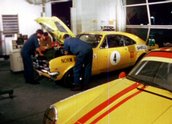 Championship Chase (1970)
Synopsis
On the eve of champion driver Norm Beechey's final race in the Australian Touring Car Championship (ATCC), this documentary by the Shell Film Unit looks back at how Beechey won the Championship.
Curator's notes
Filled with tension, drama and adrenalin, this documentary follows Norm Beechey as he competes in seven races across five states over nine long months of motor racing. Condensed into a fast-paced 20-minute package, Champion Chase covers all seven races and sets the context for Beechey's final championship win before he announced his retirement in 1970. Beechey was part of a racing team that Shell sponsored, and the Shell Film Unit followed him during the 1970 Australian Touring Car Championship. Through their access to his experiences, the film tells the great Australian success story that Beechey's career illustrates.
Sponsorship of sports men and women has become a lucrative industry. In Champion Chase Shell's sponsorship of Beechey and the champion Holden team allow it to associate with those qualities that Beechey embodies as a champion – excellence, sportsmanship, the willingness to learn lessons and overcome hardship, perseverance and determination.
Since the 1920s, Shell has been sponsoring Australian documentaries, once ambitiously declaring that 'Australia's future is Shell's future'. Its involvement with motor sports goes back to the 1950s when it first filmed the 1956 Australian Grand Prix in Melbourne. Roads and motoring in general are of natural interest to Shell and the 1956 documentary Let's Go promotes the work of the Shell Touring Service and Shell Road Maps at a time when vehicle ownership was on the increase in Australia.
The Shell Company of Australia has deposited a significant amount of its own film library holdings with the National Film and Sound Archive for preservation.