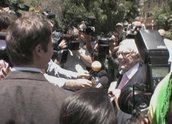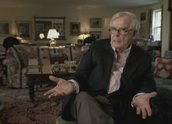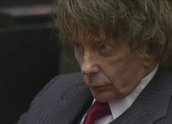 Celebrity: Dominick Dunne (2008)
Synopsis
A prominent socialite and Hollywood film producer in the 1960s and '70s, Dominick Dunne fell into alcoholism before re-emerging as a novelist and Vanity Fair reporter covering celebrity trials. Filmed during the murder trial of record producer Phil Spector, 82-year-old Dunne candidly recalls the highs and lows of his celebrity-obsessed life.
Curator's notes
Australian filmmakers Kirsty de Garis and Timothy Jolley scored a scoop Dominick Dunne himself might have been proud of when the legendary Hollywood insider and celebrity watcher agreed to be the subject of this revealing documentary. His life reading like a novel Nathanael West (author of The Day of the Locust, 1939) might have written, Dunne is a witty and incisive commentator on the rich and famous and a brutally honest critic of his own failures over the past 50 years.
Expertly edited by Suresh Ayyar, Celebrity: Dominick Dunne weaves Dunne's remarkable story around his Vanity Fair assignment covering the 2007 murder trial of eccentric record producer Phil Spector (Spector was freed after a mistrial, then convicted in 2009). Established in the opening sequences as a media star in his own right (see clip one), Dunne's love-hate relationship with celebrity brings a strong emotional dynamic to the documentary. Having thrown fabulous parties for his famous friends and produced Hollywood feature films (including The Panic in Needle Park, 1971, and Ash Wednesday, 1973) before his career capsized, Dunne is better qualified than just about anybody to comment on how fame operates and what happens when its glow fades away.
Fame and crime are deeply personal issues for Dunne, whose 22-year-old daughter Dominique, an actress who'd appeared in the horror hit Poltergeist in 1982, was murdered that same year. The lenient sentence handed to his daughter's killer is the driving force behind Dunne's desire to see justice served on those, in his opinion, whose wealth and status allows them to manipulate court proceedings and sometimes escape the law. In light of this tragedy it is easy to comprehend his withering disdain for Phil Spector (see clip three) and other celebrities such as OJ Simpson who walked free in highly controversial circumstances.
Supplying Jolley and de Garis with priceless home movies of holidays and pool parties with stars such as Jane Fonda ('it was like the royal family' says his son, actor-director Griffin Dunne), Dominick Dunne is a marvellously entertaining raconteur with the honesty to admit he 'became a fake' in his high-flying days and has never felt comfortable with his own identity. Described by former Vanity Fair editor Tina Brown as the 'defining voice' of the prestige publication, and by legendary rise-and-fall-and-rise again Hollywood producer Robert Evans as 'the master of the written word' (see clip one), Dominick Dunne is presented here as one of the last living links between the tail-end of the old Hollywood days and the new age of multimedia celebrity obsession.
Dunne passed away on 26 August 2009, leaving Jolley and de Garis's film as the only substantial record of a life that truly was stranger than fiction.
Celebrity: Dominick Dunne was released in Australian cinemas on 23 October 2008.