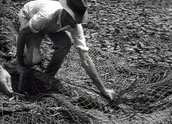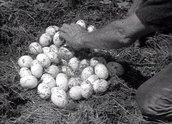 Catching Crocodiles (1933)
Synopsis
This wildlife documentary made by Australian Educational Films shows methods used by hunters to catch freshwater and saltwater crocodiles in Australia's far north.
Curator's notes
In 1931, Australian film pioneer and entrepreneur Frank Thring and naturalist Noel Monkman collaborated to form Australian Educational Films. Together they produced 11 short documentaries – five on the Great Barrier Reef and six 'Monkman Marvelogues' with wildlife and natural history themes. Most were filmed in north Queensland. Catching Crocodiles, one of the 'Monkman Marvelogues', was shot at the Gulf of Carpentaria. Monkman was cinematographer on Catching Crocodiles. He became world famous for his underwater photography and utilised 'micro-photography' to capture the natural world up close. Catching Crocodiles screened to local audiences in 1933 as part of an Efftee Film Productions program.
Thring formed Efftee Film Productions in 1930, and it was Australia's first talking film studio. Along with Diggers (1931), his best-known features include The Sentimental Bloke (1932), Harmony Row (1933) and His Royal Highness (1932). Frank Thring screened a variety of shorts entitled Efftee Entertainers which featured musical and dancing acts, comedy routines, impersonations and excerpts from JC Williamson's opera company.