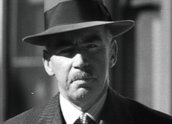 Captain Cook's Cottage (1938)
Synopsis
Mr Russell Grimwade tells of his purchase of Captain Cook's family cottage in Yorkshire, England and its transport to Fitzroy Gardens, Melbourne. To 'appease resentment' back in Yorkshire, a monument is erected in its place.
Curator's notes
Russell Grimwade was a scientist and businessman who also had a keen interest in botany and cultural philanthropy. He purchased Captain Cook's cottage as a gift for the people of Victoria in 1933. He paid £800.
The film was produced by Herschells Films, a production company which had been making short documentaries since 1912. There's little information about why this film was produced and where it might have been screened, but it seems that a target audience was the people of Yorkshire. The nitrate print of this film came into the National Film and Sound Archives from the University of Melbourne where Grimwade completed a Bachelor of Science in 1901.