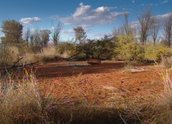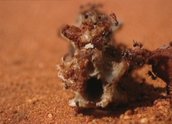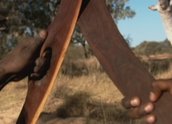 Bungalung: A Dreaming of Cannibals (2007)
Synopsis
Young men re-enact the Bungalung story as told by Anmatjere elders Patsy and Jane Briscoe. The film depicts the battle between two young men and the demon Bungalung in the Dreamtime. The two young men challenge and defeat Bungalung and save their mother and sister.
Curator's notes
Bungalung tells a traditional story designed to heighten children's sensory awareness of their surroundings.
Anmatjere elders Patsy and Jane Briscoe employ a mix of words, songs, chants and mourning sounds to produce a hauntingly beautiful and rhythmic form of storytelling. Their voices ebb and flow as they take turns in telling the story or at times speak in unison. These women descend from a long storytelling lineage and this film stands as a testament to their art.
This film documents the use of both Aboriginal and non-Aboriginal forms of cultural knowledge transfer, from traditional oral communication around the campfire to the retelling and re-enactment of Dreaming stories for television.
The Nganampa Anwernekenhe series on Imparja Television provides an opportunity for Aboriginal people to produce and broadcast their stories in their languages to the world. This film culturally enriches its audience's awareness of Anmatjere people and culture.