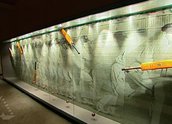 National Treasures – Bradman's Bats (2004)
Synopsis
Warren Brown pulls on the gloves and picks up the willow at the State Library of South Australia for his choice among the treasured Bradman bats on display in the Adelaide collection.
Curator's notes
Donald Bradman's status as an Australian icon is without question. But can just one of the bats he used to enter the record books sum up his unparalleled cricketing career?
This is an episode from the first series of National Treasures, hosted by political cartoonist, columnist and history 'tragic' Warren Brown. Brown draws on a fascinating mix of national treasures from public and private collections to give a snapshot of an historic moment and illustrate the uniqueness of the Australian experience.
The ABC broadcast National Treasures in 2004.