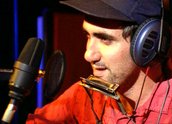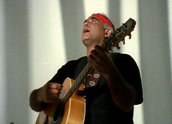 Blood Brothers – From Little Things Big Things Grow (1993)
Synopsis
A musical documentary that comments on the work of Kev Carmody, Indigenous songwriter and historian. An exploration into the life of Carmody, using music clips especially made for the documentary, and historical footage to portray the years he spent in an orphanage when forcibly removed from his family by Queensland authorities at ten years old.
Curator's notes
Kev Carmody grew up on a cattle station near Goranba, in the Darling Downs area of south-eastern Queensland. This documentary offers musical clips of some of Carmody's better known works that have now become classics in Aboriginal music, featuring some well-known Indigenous artists in musical support. The importance of Carmody's role as an historian who continues the oral storytelling Indigenous cultural tradition is evident in many of the musical pieces offered here – in particular the song from which the title of the film is derived, 'From Little Things Big Things Grow', written and performed with Paul Kelly and the Indigenous group Tiddas in back-up. Carmody and Paul Kelly discuss the Wavehill walkout, the theme of the song. An important moment in Aboriginal history, the iconic image of Gough Whitlam pouring dirt through Vincent Lingiari's hand is captured in the work of Mervyn Bishop, the first Aboriginal photographer to work for the Sydney Morning Herald. Carmody's music is more than song, it is history.
From Little Things Big Things Grow is directed by Trevor Graham. Graham's other directing credits include Sugar Slaves (1995), Mabo: Life of an Island Man (1997), Tosca: A Tale of Love and Torture (2000), Aeroplane Dance (1994), Lonely Boy Richard (2003), and Land Bilong Islanders (1990).