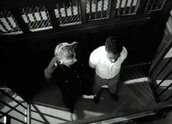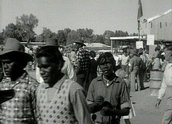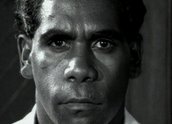 Blood Brothers – Broken English (1993)
Synopsis
A documentary that alternates between interview and dramatised re-creation. It is the story of Rupert Maxwell Stuart (Max Stuart), an Arrernte man accused of murder and condemned to death in 1959. There are blocks of dramatic re-creation in black-and-white, intercut with interviews with key figures in Max's case, shot in colour. The re-enactments provide a visual depth to the film, allowing the audience to participate in the drama more readily than if told in straight interview style documentary.
Curator's notes
The case of Max Stuart depicts a legal system that does not accommodate Indigenous peoples who do not speak fluent English, and are therefore seriously disadvantaged. The original intention of the filmmakers was to rely on the testimony of Father Tom Dixon, the priest who lobbied to save Stuart from the gallows. However, after the death of Father Dixon during production, the film was restructured as a docudrama that alternates between interviews with key players in the case of Max Stuart, and dramatised re-creation of Max's experience in the court and jail system.
For further reference, read The Wizard of Alice: Father Dixon and the Stuart Case (Morwell, 1987). Broken English is directed by Ned Lander, whose other directing credits include Fifty Years of Silence (1994). The case of Max Stuart is also the inspiration for the film Black and White (2002), directed by Craig Lahiff, and written by Louis Nowra.