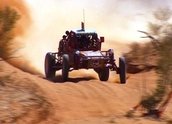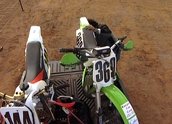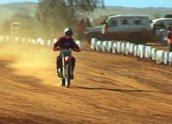 Black and Dusty (2005)
Synopsis
A documentary about the Indigenous participants of the 2005 Tattersalls Finke Desert Race.
Curator's notes
The Finke Desert Race tests both the body and the mind in putting the contestants through a gruelling race from Alice Springs to the community of Finke 229 km away. The contestants stay overnight and then do the return trip the next day. The race itself may seem innocuous, but the older participants speak of inspiring younger people to get involved in something and life itself.
There is lots of footage of vehicles tearing through the dusty outback, and its great to watch a film of this genre and hear Indigenous languages – in this case Southern Arrernte and Luritja. A film for those addicted to speed and dust.