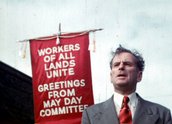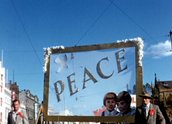 Banners Held High (1956)
Synopsis
This documentary is about the significance of the May Day celebrations for the trades and labour movement in Australia. It includes the construction and painting of elaborate banners and signs by waterside workers and footage from the 1956 May Day march through the streets of Sydney. Commentary is provided by filmmaker Jock Levy.
Curator's notes
Banners Held High was made by the Waterside Workers' Federation Film Unit for the May Day Committee of the New South Wales Trades and Labour Council (TLC). The film essentially celebrates the spirit of May Day and contextualises the importance of workers in contributing to the 'throbbing heart' of the nation (Levy's words). Trade unions have traditionally displayed and created banners for May Day – there was even a Sydney wharfies art group set up by waterside workers for this purpose in the early 1950s. The richness of the colours in the banners and parade is thanks to the 16mm colour film stock that the filmmakers used, supplied by the TLC. The strong anti-war sentiment displayed on some of the banners hints at Cold War anxieties of the time (see clip two).
The Waterside Workers' Federation Film Unit (Jock Levy, Keith Gow and Norma Disher) was formed in 1953 when it made Pensions for Veterans (1953) in support of the wharfies' campaign to attain pensions for veteran waterside workers. The unit went on to produce around a dozen films about health and safety, industrial relations, standards of living and the struggles of the working classes. The only film unit in the world positioned inside a union (according to the Maritime Union of Australia), it covers traditional labour issues from the perspective of the worker. The unit's films have been labelled left-wing propaganda but this does not subtract from their importance in documenting traditional struggles of the working classes as experienced by the workers themselves.
Fighting Films: A History of the WWF Film Unit (2003, Pluto Press) was written by academic Lisa Milner based on her PhD research into the WWF Film Unit. The book was jointly funded by the Maritime Union of Australia, the Construction Forestry Mining Energy Union (Mining and Construction Divisions) and the Australian Manufacturing Workers' Union. To coincide with the publication, the MUA released a three-DVD compilation featuring 13 of the WWF Unit's films as well as John Hughes's documentary Film-work (1981).