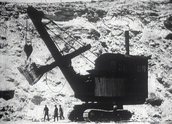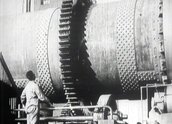 Australian Cement in the Making (c.1926)
Synopsis
This surviving 24 minutes from a silent documentary with intertitles shows the processes involved in the production of cement from raw limestone material to the final product at the Portland Cement operation in New South Wales. It also depicts the cement being weighed, bagged and loaded onto trains to transport it from the works.
Curator's notes
The focus of this industrial documentary is primarily on the production process, but the intertitles contextualise the importance of cement in the modern city. One of the intertitles in this film describes cement as 'the most essential material in the greatest constructional undertakings of today' and highlights the high quality of Australia's cement production. From the construction of large-scale projects such as weirs to the building of roads, cement is the basic material.
The documentary is similar in style to a series of mid-1920s films produced by the Made in Australia Council, whose films raised public awareness about the importance of local production and promoted Australian-made goods (see The Australian Steel Works, c1920). It is possible that Australian Cement in the Making is part of this series, however its provenance is unclear as the film cuts out abruptly at the end and there are no credits.