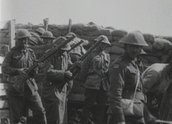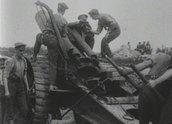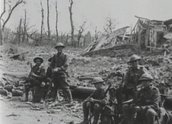 Australia in France, Part One (c.1918)
Synopsis
This documentary film was shot in the middle of 1916 on the Western Front in France by British cinematographers. The earliest scenes, from May 1916, include the Australian prime minister, Mr WM Hughes meeting General Sir William Birdwood, commander-in-chief of the Australian forces, at his headquarters in a chateau. Australian soldiers recently arrived from Egypt undergo training in trench warfare, including building fortifications above ground using sandbags. At a trench training camp, they practise throwing bombs and fighting during a smoke attack. In late May, General Birdwood visits a wood-chopping contest in the forest of La Motte in northern France. Maori woodchoppers from New Zealand defeat teams from Australia and Canada. In July 1916 Australians move up to the Western Front. The first casualties are brought into casualty clearing stations, where French women and children look on. Australian doctors and nurses tend the wounded. An Australian padre holds a Sunday service for members of a transport company. Along the lines leading to the Somme battlefield, large numbers of Australian troops move forward, heading for the Battle of Pozières. The men rest before going into battle, tethering their horses in old British shell holes. British 8-inch Howitzers plaster the small town of Pozières, and German shrapnel replies. West Indian troops work at the never-ending task of feeding shells to the artillery near the front.
Australian Field Artillery is now in action at Pozières, bombarding a town that no longer exists. British shells join in the bombardment, as Australian troops move up through the town of Contalmaison. The Australians take Pozières, only to endure ferocious German bombardment. They repel two German counter-attacks in a ferocious battle. General Birdwood visits a Victorian brigade after they come out of the line. He talks to men of a New South Wales Battalion after a rollcall. Australian soldiers display their captured booty –German helmets, knives and other equipment. The battle continues behind them, with fresh troops moving in past Casualty Corner. Stretcher-bearers constantly ferry the wounded back, many of whom do not survive. Australian officers search and question German prisoners, before sending them back to prison camps. The King of Great Britain visits the battlefield, observing Pozières through a telescope. Scottish troops now fight beside the Australians, followed by Canadians and New Zealanders. After the battle is won, the 1st Dvision of the AIF dedicate a memorial to the fallen on the outskirts of Pozières.
Curator's notes
Australia in France, Part One is one of the unsung treasures in the collection of the Australian War Memorial. It is the most accurate film we have pertaining to the Battle of Pozières, one of the most significant events in Australia's history. It is also the closest thing we have to Charles Bean's 'lost' film about that battle – indeed it is very likely to be his rescued version of the film.
CEW Bean was the official war correspondent and later, the official historian of Australia's part in the First World War. The Australian War Memorial, which he founded, holds two films from 1916 that deal with this battle, one of the most costly of the war for Australia. This appears to be the more complete, the one that most closely resembles a rough scene plan outlined in his diary in January 1917. One of the problems is that the film is not complete. There is no 'Part Two' in the surviving titles, for one thing. Another is that we don't really know with certainty what the diary plan was for – a rough draft, or a firm plan.
The other film, entitled With the Australians in France 1916 (c1917), appears to be the film he claimed was butchered in London in 1917.
The mystery is significant because the battle was significant. Both of these films purport to show actuality of the battle, and that makes each film extremely valuable. Settling which one resembles Bean's original idea helps us to judge the veracity of the titles. These films were silent; information about what they showed was contained in the titles. Bean wrote these for the first version of the film and he was a stickler for accuracy. His diary notes are severely critical of the titles in the 'butchered' film.
The Battle of Pozières is one of the most traumatic events in our history. Australian forces, newly arrived in France, attacked German strongholds in this tiny village, no more than a slightly elevated point, in July 1916, their first action in the Battle of the Somme. They took the village where other attacks had failed, but paid a grim price. In 42 days of fighting at Pozières and nearby Mouquet Farm, the 1st, 2nd and 4th Divisions of the Australian Imperial Force sustained 23,000 casualties, 6800 of whom died.
Five days before Pozières, the 5th division had attacked at Fromelles, further north, and taken 5000 casualties in 24 hours. It was their first major action on the Western Front and is still the bloodiest 24 hours in Australian military history, but Pozières was worse. It went on for much longer and it exposed the Australians to the brutal truth of this new type of war, in which dash and daring were no match for massed artillery. For most of the six weeks of Pozières, the Australians endured sustained enemy shelling unlike anything they had seen before. The village disappeared, as did the trenches, and many men were driven mad. The casualty lists were a traumatic shock in Australia, where the debate about conscription was just getting started.
Charles Bean witnessed much of the battle firsthand, and he was convinced that the British generals did not appreciate what the Australians had done or endured. Generals rarely visited the trenches. Bean wanted an official film to show Australian audiences, and perhaps the British hierarchy, the extent of the sacrifice. He expended considerable effort on its production. Australia did not yet have its own cameramen, so he arranged to borrow British cinematographers, whose work he supervised. He then devoted most of one precious leave in London in January 1917 to editing and titling the film, with the help of his colleague Henry C Smart, Controller of the Australian Military Office in London.
For reasons that are still unclear, the film was altered by the London production company headed by Sir William Jury, a prominent figure in movie exhibition and rental, and a major figure in the British government's growing film propaganda apparatus. Charles Bean did not discover until January 1918 that his instructions for the film had been largely ignored. By that time, a version of the film that he called 'preposterous' and 'senseless', had already been sent to Australia. 'The whole of our Pozières cinema work has gone for nothing, thanks to the British and their private enterprise,' Bean wrote in his diary (AWM38,3DRL606/96/1, pp 25-28, 14 January 1918).
In 1928, he wrote an addendum to the January 1917 diary in which he described in more detail what happened with the Pozières film.
During this visit to London I went through all the available British film and put together a film telling Australians the Battle of Pozières. It was a good film something like those we retitled in Australia after the end of the war, for the War Museum. It was our right to have this done and the War office recognised that right – because they had refused to let us have our own cinematographer and had promised that theirs would be sent up when I wanted them. After several days' continuous work, with Smart's assistance, at the office of Jury (the film proprietor to whom the British government handed over their film for exploitation) the work was complete and I left for France with Sir W Jury's assurance that the film would be made up as I had titled it. Smart was having it sent to Australia.
Jury let us down hopelessly. They slung together odd scraps of film – tags cut off other film and not wanted; put their own senseless titles on them; and sent this preposterous product to Australia! I never heard of all this till after the war [sic] – it was gross carelessness – or rather indifference to our needs and claims. I was utterly mortified when I saw what had been sent to Australia as our film! No wonder it was useless. Jury was shortly afterward knighted. (AWM38,3DRL606/69/1, p 8 (second sequence of numbering), addendum dated 1928)
On the page opposite this entry, Bean wrote a detailed shot list describing a film that ran over ten reels. These ten reels are most likely the collected footage of 'all the available British film' that Bean mentions above. He noted which pieces of footage included Australians, whose guns were shooting at what, and in some cases he wrote down the titles that appear to have been already on this footage. Some of these titles appear unchanged in Australia in France, Part One. Much of what Bean notes in the ten-reel plan does not appear in the film, probably because Bean was only looking for scenes relevant to the Australian effort. Where he does find relevant material, the shots often appear to have been included in the same order in this film. In other words, his notes are the beginning of a plan for what became Australia in France, Part One. More significantly, his notes authenticate many of the titles and establish a direct link between Australia in France, Part One, and the ten-reel plan.
Bean also wrote another set of notes on page five of that diary, which appear to be a draft for the first section of a film, to be titled With the Anzacs. The first 14-and-a-half minutes of Australia in France, Part One, correspond closely to that plan, with some changes in the order. Bean also notes that some of the shots are 'sham' – meaning staged for the camera, something he did not usually like.
On pages two and three in that diary, Bean notes 'the particulars of film of Australians picked from British film (used and unused) for Australian film'. These make clear the locations of some shots, who took them, and on what date. That means we can identify some of the shots in Australia in France, Part One (F00047), and some of the units involved.
A title at the beginning of the film tells us that these scenes were filmed by British cinematographers at the request of the Australian authorities. We know that the photographers included Geoffrey Malins and John McDowell, the two cameramen who filmed the most successful film of the war, The Battle of the Somme (see With the Australians in France 1916). Bean lists also Ernest Brooks and EG Tong, both official British photographers, beside the shots they took. Brooks and McDowell filmed several sequences in Sausage Gully, a main thoroughfare towards Pozières. EG Tong filmed trenches near Armentières and Mr Hughes's visit, Malins did a tree-felling contest in La Motte Forest on May 21.
Many questions flow from these pages in Bean's diary. When was Australia in France, Part One (AWM F00047) put together? Was it before or after the botching of With the Australians in France 1916 (known as F00050 at the AWM)? AWM F00047 is certainly closer to the original notes from page 5 of Diary 69. It runs 51 minutes, 13 minutes longer than AWM F00050, but both films have many of the same shots in a different order, or with different titles.
Charles Bean notes in his diary for January 1918 (Diary 96, p 37, after he discovered what had happened) that Sir William Jury's office had contacted him to say they had found 'one part of that lost film'. He went in to see it, and noted that Jury 'had me in and tried to get me to say it wasn't their fault'. Bean notes drily that, 'I would not do this. I fancy he has just an idea that there may be trouble ahead'.
A few weeks later, Bean wrote (in a letter to Harry Gullett, his counterpart in Egypt, 6 February 1918, incorporated in Diary 97) that more footage had been found. He describes this as 'one section of the original film which I had put together, lying there forgotten'. He continues:
A second length of film, which bore traces of being part of the same story, but which had not been edited in accordance with final instructions, was also unearthed. After this, a Canadian officer who now works at Jury's, got to work and dug out the two remaining parts of my original film. Nothing had been done to them since the day when (General) Legge and I left the film theatre with the business apparently all in good hands and practically completed. We have now got them to put this aside. (Hubert) Wilkins and I will go carefully through them when he next comes from France, and see if we can retitle the film from my old titles and drag together the negative. In the meantime, the film which went out to Australia was, of course, a hopeless frost. It nearly made you sick to see it, so I do not wonder.
The Commonwealth paid at the rate, I believe, of 4½ d (pence) a foot for eight films of 2000 feet each. I have not worked out the sum. One strongly suspects that even when they reach Australia, these films lie mostly in the cellars of the Defence Department … I don't suppose anyone there has the faintest idea of the importance of propaganda.
This makes clear that Bean did intend to reconstruct his original film. Bean himself remarks in the 1928 addendum that they did some editing and titling of films after the war, but he doesn't say they remade the Jury version. There is strong circumstantial evidence that he and Wilkins did do some reconstruction on the botched film in Melbourne in 1920. Ian Jackson, a curator of photographs at the AWM, has found a reference in Bean's 1920 correspondence, in which Wilkins is engaged to come to Melbourne to do eight days' work on film and photographs for the yet-to-be-built Australian War Memorial (file AWM38 3DRL/6673 781, not online). Ian Jackson writes:
It is mentioned that he (Wilkins) provided a list of titles for what were described as 'the Pozières and 1918 films' – presumably this refers to the revised version of Australia in France, Part One and to The Australians' Final Campaign in 1918. I think this is the evidence that Wilkins was involved in titling and editing these films after the war. Indeed, in a letter from Bean in the same file, he suggests that one of the tasks Wilkins should do is 'cut the Pozières film'. It is not completely clear from this file that Wilkins had time to do this – he ended up spending less time in Melbourne than Bean and Treloar (head of the Australian War Records Section) had hoped – but it certainly makes clear that he provided titles and probably at least gave instructions about how the film was to be edited.
Does this solve the mystery of AWM F00047 then? Not quite. We still do not know how much work Wilkins did, or whether Bean himself assisted, although it is highly likely, given his strong desire to see the film remade. And we still don't know what happened to Part Two. If this is the 'lost' film, it appears to be only part of it, at best. We do know that the botched version of the film was shown in Australia in 1917, because a title called With the Australians in France was reviewed in The Sydney Morning Herald in July 1917. Given the date, it can only be the William Jury version of the film, because Bean didn't know it had been botched till January 1918, six months later.
In summary, what do we know about Australia in France, Part One (AWM F00047)? We know that the shots were made by British cinematographers, and that Bean chose which shots he wanted; we know that it includes several sections taken from another British official film, The Battle of the Ancre, filmed in late 1916, because Bean notes that in the ten-reel plan; we know where many of the pieces of film were shot and when, and by which cinematographer; and we know that the first 14-and-a-half minutes is a close match for what appears to be a plan on page 5 of Diary 69. We know that Bean worked with Hubert Wilkins in 1920 to retitle and reconstruct the Pozières film; although we don't quite know how much they did, and we don't know what happened to Part Two. We may say with confidence that AWM F00047 is more than likely the result of that work in 1920. We can also be confident that the titles in Australia in France, Part One are more accurate than those on AWM F00050 – and that makes AWM F00047 very valuable indeed for Australians.
In the 94 years since this film was taken, many of these images have been used and reused in other films, usually without attribution or identification. They have become generic images of the Great War, often used indiscriminately. By identifying exactly where and when some of these sequences were taken and what they show, we go some way towards recognising their value.
These images were not generic when they were made. Charles Bean intended them to show Australians, and the British commanders, what the Australian troops had been through at Pozières and Mouquet Farm. That would have been Australia's first major war documentary (as distinct from the Ashmead-Bartlett footage of Gallipoli in With the Dardanelles Expedition, which is more like a loose assembly). Bean was thwarted in that regard, at least in the first attempt, by Sir William Jury's careless work. It's very likely that AWM F00047 is the second attempt to tell that story, with greater accuracy and editorial control.
We have very few moving images taken at Gallipoli, but the war on the Western Front was better documented. A series of Australian photographers worked throughout 1917 and 1918 to document various battles. The events of 1916, a crucial year in both the conduct of the war and the politics surrounding it, are less documented, at least for Australian troops. That makes this film and its mysterious counterpart prime candidates for further research, and perhaps, a full restoration.