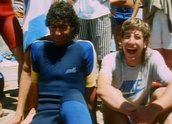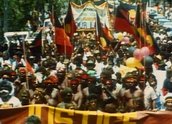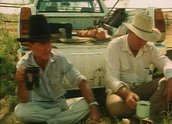 Australia Daze (1988)
Synopsis
An observational documentary shot on the bicentennial anniversary of Australia's European settlement. Twenty-nine directors working all over Australia have contributed segments as Australians celebrated 26 January 1988.
Curator's notes
An interesting film in that the action took place on one day. Twenty-nine camera crews were briefed to record the celebrations in different parts of the country. Emphasis was placed on recording the Aboriginal protest as five directors were covering the event.
Secondary curator's notes
by
Romaine Moreton
Australia Daze is set during the 1988 bicentennial celebrations of Australian settlement. Concurring with this moment in colonial history is Indigenous resistance to colonisation and settlement. In 1988, thousands of Indigenous people travelled to Sydney to protest the celebration of the arrival of the British.
Australia Daze documents the different preparations for the historic day by people of different demographics and cultures. The vocal presence of Indigenous peoples who gathered to celebrate survival is symbolic of the underlying issues regarding Australian race relations that survive into the present. The Indigenous voice and perspective has largely been excluded from the Australian historical narrative, and the perception that Indigenous Australians represented an antagonistic presence on 26 January 1988 is synonymous with the exclusion of Indigenous people from Australian nationhood.
Australia Daze provides an interesting snapshot of Australia on the day that 200 years of settlement was celebrated. In regards to the Indigenous gathering, it was a powerful moment in the history of Indigenous resistance to settlement. The Council for Reconciliation was established in 1991 with the intention of making a more congruous relationship between Indigenous and non-Indigenous Australians.
National Reconciliation Week was first celebrated in 1996, and falls between 27 May and 3 June. Both are significant dates in regard to the relationship between Indigenous and non-Indigenous peoples: 27 May is the anniversary of the 1967 Referendum in which 90% of Australian's voted to make Aboriginal people citizens and to remove clauses in the constitution that discriminated against Indigenous peoples; 3 June is the day that the High Court handed down its judgment on the Mabo case. In January 2001, the Council for Aboriginal Reconciliation was replaced with a new private body, Reconciliation Australia.