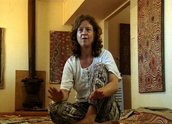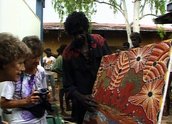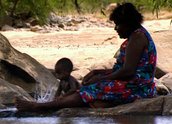 Art From the Heart (1998)
Synopsis
The documentary looks at the way that Aboriginal art has been commercialised since the 1970s. Artists and galleries have prospered since Aboriginal art was marketed on a large international scale. The documentary features interviews with gallery owners, dealers and Aboriginal artists themselves. It puts forward a balanced view. Some dealers are conducting business fairly with the artists and some employ questionable practices. The artists and their families have come to rely on the income and that has led to some forgery and mediocre work.
Curator's notes
An informative documentary that suffers from a reluctance to pursue the issues it raises, such as exploitation. It touches on the commercial future of Aboriginal art but leaves this important aspect to the viewer's imagination
Secondary curator's notes
by
Romaine Moreton
Art from the Heart as a documentary did not evoke a positive response from the Indigenous visual arts community. The absence of Indigenous practitioners, other than central desert artists, curators, and theorist's voices makes this documentary somewhat exploitative, which is ironic considering this is the subject of the film.
From the very opening title, Art from the Heart, the filmmakers position art as a heartfelt expression, the title sequence depicting a two dollar coin at the centre of a dot painting. The constant urging of the filmmakers to have the Indigenous artists justify their motivation for painting – is it from the heart or do you paint for money – is very condescending. The Indigenous subjects are spoken to as though they are children or at least childlike, and the language barrier between the documentary makers and the Indigenous artists is in no way dealt with in order for the Indigenous artists to be empowered during this film when discussing their art. It is a very uncomfortable moment when the filmmaker actually places his hand on one of the artists (Helicopter), in an attempt to evoke the response that supports his perspective.
There seems to be the perception pushed by filmmakers that Indigenous peoples painting for money is in some way amoral, while the motivation of white art collectors of Indigenous works is not cross-examined. The film tells us that the Indigenous arts movement that began in the 1970s serves white collectors and gallery owners, yet the fortunes that these people make is never questioned. On the other hand, the Indigenous artists must stand the indignity of being asked to justify how they spend the little money that they do make.