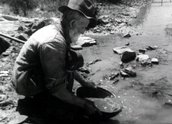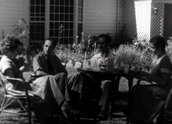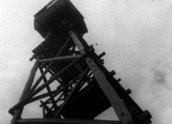 Around a Gum Tree (1949)
Synopsis
Using Australia's many species of gum trees as an analogy, this black-and-white documentary looks at the wide range of industries, employment sectors and lifestyles which emerge 'around a gum tree' in different parts of the country.
Like the people of Australia, the 'rough, untidy yet stately' gum tree adapts itself to many scenes and climates, often grows alone in isolation, but comes to its greatest where it grows in the 'community life of the forest'.
Curator's notes
The Shell Film Unit developed a sophisticated style of documentary making from the late 1940s through to the 1960s. Around a Gum Tree cleverly uses Australia's adaptable and recognisable gum tree and the diverse landscape it inhabits as a device to explore of the broad range of industries that the country supports.
The Shell Company of Australia had been sponsoring documentaries since the 1920s, but formed its own film production unit in 1948, modelled on the British Shell Film Unit. Shell has deposited a significant amount of its film library holdings with the National Film and Sound Archive for preservation. Along with film and video material, the collection includes hundreds of associated publicity booklets, scripts, production stills, posters and film notes.