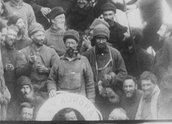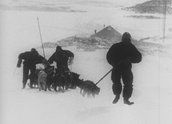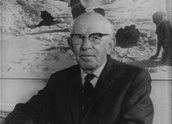 Australia Today – Antarctic Pioneers (1963)
Synopsis
In his last appearance on film, veteran Antarctic explorer and photographer Frank Hurley introduces a survey of footage covering the history of Australian expeditions in Antarctica, including scenes from Hurley's first trip south with Sir Douglas Mawson in 1911. The latter parts of the film are an assembly of footage from films made for the Australian National Antarctic Research Expeditions (ANARE) from 1947 onwards.
Curator's notes
Antarctic Pioneers was put together late in 1961 and the early part of 1962. Frank Hurley died on 16 January 1962 and the narration, read by John West, indicates that Hurley finished the filming of his contribution only a week or two before his death, which should mean in the first or second week of January. He was then 75 years of age and world famous, partly because of the footage we see here of the Australasian Antarctic Expedition (AAE) of 1911–14, on which Hurley was the official photographer.
Hurley was also famous in Australia for his still photographs and his work as a photographer in two world wars. Indeed, at the time of his death, he was probably Australia's most famous photographer. His notoriety continues, although his images are now the subject of some controversy (see AWM Western Front and The Australians' Final Campaign in 1918, c1919). His footage of the ship Endurance breaking up in pack ice during Ernest Shackleton's 1914–16 expedition remains extremely well known.
Hurley was usually behind the camera rather than in front of it, and that makes this footage of the man rare. It is difficult to know whose idea it was to film him. Antarctic Pioneers was made as part of a newsreel magazine series for television, produced by the Australian Commonwealth Film Unit under an experienced team of Ron Maslyn Williams and Lee Robinson, with Frank Bagnall as producer of this episode. Maslyn Williams certainly knew Hurley, because they had been correspondents in the Second World War in the Middle East together, and it is likely that Robinson and Bagnall also knew him. It may be that they decided to film him because of his advancing age, although the impetus may have been simpler.
Australia had had television for four years and the demand for programming was high. Antarctic Pioneers is composed almost entirely of footage from other films, with the Hurley interview as a linking device. In one sense, the film is a convenient repackaging of already available materials, a quick way of producing cheap programming. Correspondence held by Film Australia indicates that the Australian Antarctic Division, headed by Phillip Law, loaned much of the footage for use in the film, but Law was concerned about the preservation of the originals, especially the colour footage of his 1954 expedition, which appears here as a black-and-white transfer (Australia did not have colour television at the time).
Phillip Law has credit as co-director, with Hurley, but that is probably a reflection of the underlying credits. The person most responsible for making Antarctic Pioneers is probably Frank Bagnall. The completed film sat on the shelf for a year before it was shown. In late 1962, Phillip Law wrote to Stanley Hawes, the head of the Commonwealth Film Unit, asking when the ABC would make a decision about screening it. Hawes replied that the Royal tour had delayed decisions at the ABC, but that the film would be shown as part of the new series of Australia Today.