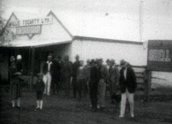 An AIM Patrol (1927)
Synopsis
During the winter of 1927, Australian Inland Mission (AIM) patrolling officer Reverend Andrew Barber and AIM medical adviser Dr George Simpson travelled over 12,800 kilometres through the central region of Australia to assess the medical needs of the people in the outback. Their patrol covered what became the Aerial Medical Service region from Victoria across to South Australia, north to Darwin in the Northern Territory, through Queensland to Brisbane and back down the east coast of New South Wales to Melbourne. An AIM Patrol records part of their journey.
Curator's notes
On their three month journey Dr Simpson and the Reverend Barber pass through cattle stations, outback properties, remote townships, Aboriginal settlements (including Hermannsburg) and AIM hostels, assessing the medical needs of the dispersed population. Intertitles are used to identify the main locations on the AIM patrol route. Much of this film focuses on the landscape and the AIM staff's journey rather than detailing the work that they do while on patrol, probably because the people it was intended for were familiar with the AIM's core work. Nevertheless, An AIM Patrol is a record of life in central Australia at a time of economic hardship coupled with geographic isolation, as well as a record of Barber and Simpson's landmark journey.
The AIM has a long history of travelling to remote communities of central and northern Australia, beginning in the 1890s when congregational ministers first ventured into the outback. In contrast to the train and car transport seen in this film, early patrols were conducted by camel, foot and horseback. By 1912 a report to the Presbyterian Assembly by the Reverend John Flynn established the Australian Inland Mission to provide a 'mantle of safety' to the people of these remote communities. The first AIM 'Patrol Padres' went out on missions the next year. Barber and Simpson's 1927 tour of outback Australia resulted in expanded activities for the AIM, with the establishment of the Aerial Medical Service (which later became the Royal Flying Doctor Service). Today AIM patrol ministers continue to service remote communities and the Royal Flying Doctor Service – the legacy of the AIM – operates as an independent organisation.
An AIM Patrol is one of the earliest examples of the Australian Inland Mission's work surviving on film. It is quite probable that this film was made specifically to accompany Simpson and Barber's written report to the AIM medical advisory committee on their return to Melbourne. The AIM continued to document their work and achievements on film in both the actuality and documentary formats. See A 5,000 Mile Tour Through Central Australia (1930), Beyond the Furthest Fences (1947), The Inlanders (1947) and Australia's Land of Tomorrow (1962).