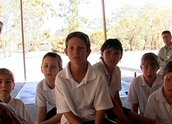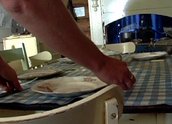 All About Olive (2004)
Synopsis
Filmmaker Mike Rubbo takes 105-year-old Olive Riley back to her childhood home in Broken Hill, western NSW, to talk about her life. Rubbo enlists Olive's help to faithfully recreate scenes from Olive's early life, using locals dressed in period costume.
Olive's recollections are prompted by occasional questions from the filmmaker and her memories and enthusiasm for life are infectious. The visit to Broken Hill for the making of this film after an absence of many years prompts Olive to recall her broken marriage and the fate of her children. She becomes a celebrity in the town and finds closure to some painful parts of her early life.
Curator's notes
Australian filmmaker Mike Rubbo, a well-known advocate of the cinema verité style of documentary making, is best known for his work in Canada. His films include Waiting for Fidel, Much Ado About Something, Tommy Tricker, Stamp Traveller and Peanut Butter Solution. The technique of recreating the past employed by Rubbo in this film is a departure from his usual style.