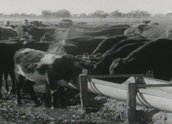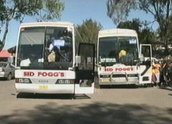 Agnes Abbott: Hard Worker (2006)
Synopsis
Agnes Abbott tells her story from her birth in the beautiful Eastern Arrernte country of Inteye-Arrkwe (Ross River), to her life in the cattle industry, and her later time at the Santa Teresa Mission where she created an alcohol-free community, supported a land claim for her traditional country, and set up a community arts centre. Agnes performed the inma kungkarangkalpa with 350 other women from the central desert at the opening ceremony of the Sydney Olympics in 2000.
Curator's notes
Agnes Abbott: Hard Worker marks significant events in both Eastern Arrernte and Australian history during the 20th century. Through Agnes's story, we learn about the employment of Aboriginal people in the pastoral industry; the removal of the people to missions; the introduction of land rights in the Northern Territory; and the establishment of Aboriginal women's organisations and community arts centres.
Like many Aboriginal women of her era, Agnes endured hard physical work in her younger years. She went on to work tirelessly to improve the living standards of her people and to promote the maintenance of Eastern Arrernte cultural traditions.
In 2000 Agnes performed alongside hundreds of other central desert women in front of 110,000 people, at the opening ceremony of the Sydney Olympics, with another 3.5 billion television viewers watching worldwide. Agnes must have marvelled at how far she had travelled in her lifetime and how far she had taken her culture and heritage.
This film gives voice to an Aboriginal elder and champion of her people. This inspirational woman who, against the odds, achieved many milestones in her life, models a pathway of strength, courage and conviction for other Aboriginal women. Accompanied by her grandchildren throughout the film, Agnes highlights the importance of passing on cultural knowledge, especially to the younger generation, to ensure the carriage of this knowledge into the future.
Agnes Abbott: Hard Worker was broadcast on Imparja Television in 2007 as part of the Nganampa Anwernekenhe series.